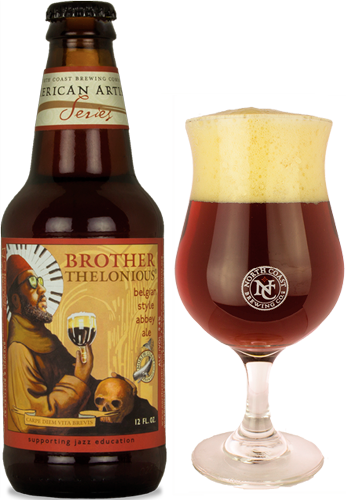 Brother Thelonious
750ml, $7
North Coast Brewing

Upon opening, this beer smells a lot like 1980s Dos Equis, namely a rich dark beer with overtones of molasses. Once decanted and tasted, however, this brew reveals quite a different flavor: like a plum-scented wine mixed with a sweet dark beer, it has a fruity undertone to a rich taste.
The slight vinegar surface flavor gives way to a medium dark beer richness, under which a plum or strawberry flavor bubbles to the surface, letting the beer slide down more smoothly. At 9.4% ABV, Brother Thelonious provides both a beer experience and a drinking one.
At first, I was put off by the "cute" name and trendy graphics, but this beer proved reasonable for the price. It will never be a great beer, and the fruity aftertaste makes me disinclined to seek it out again, but for an afternoon of quiet consumption it seems to fit the bill.
Its wine-like attributes come out over the course of a bottle. The warmth of beer finds itself replaced by the acidic sweetness of wine, and as the brew warms, it gives off a dense multiplex of flavor analogues.
Brother Thelonious might hit the top ten if it were less fruity and more focused on developing the dark beer flavor lurking in this medium-colored brew. It delivers a good experience, but not a distinctive one.
Tags: beer, brother thelonious, fruit, north coast