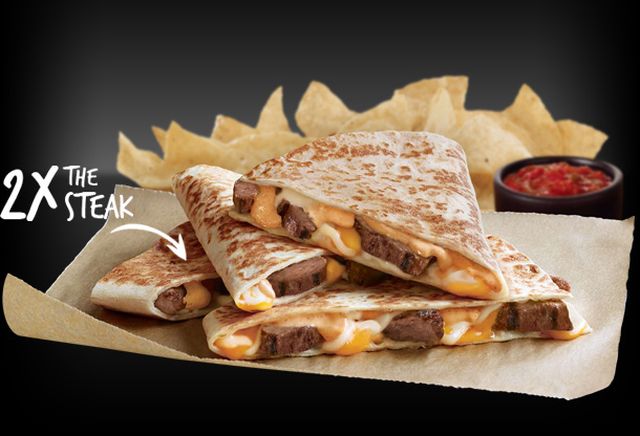 The concept is simple: take an ordinary steak or chicken quesadilla and make it twice as big for $1.20 less than you would have spent on buying two quesadillas. In my view, this is a long-overdue recognition by Taco Bell that the quesadilla alone is not a meal, and yet it is just a mite too pricey to be treated as an a la carte item like the smaller tacos and burritos.
When you munch down one of these monsters, you will be almost full. It is the quesadilla formula of two types of cheese, one of which seems real and the other feels like fermented vegetable fats, a special sauce which is savory in the same rough formula of the McDonald's "Big Mac" sauce or Chick-Fil-A's celebrated eponymous condiment. The steak, which may be re-assembled meat in gelatinized chunks, is soft and has a smoky flavor. Together these make a tasty flat wrap that can be smeared with "Fire" sauce and wolfed down in drunken or stoned delirium.
The "Doubledilla" comes with a small bag of flour chips and some rather plain salsa. The plainness was necessary because of the complexity of the sauce on the quesadilla, and surprisingly, this salsa is both not terrible on the chips and very tasty on the "Doubledilla" if you mix in some of the "Fire" sauce. Then you can smash up the chips and feed them to the birds.
Oddly, this meal reminded me of a salient fact: quesadillas, like pizzas, were originally designed as appetizers not meals. The lack of vegetables or rice makes this not quite filling as a meal, necessitating the chips which are junk calories of low staying power. The other option would be to increase the amount of jelly meat, but that would probably narrow the margin to an unsuitable point.
Taco Bell struggles with the problem of its food no longer being really a good deal. To get out there with a filling meal, one must purchase multiple smaller burritos or tacos at $2-$3 apiece. Where once one could wander in and for a buck and change pick up several of these, ending up with a meal under $5, now the outlay for a normal person would be closer to $7, not including the soft drink or desserts which you should probably avoid anyway.
With that in mind, the "Doubledilla" is a menu item without a plan: it is too expensive to be a partial meal, and yet not big enough to be a meal, which leaves the consumer stranded between high corporate margins and declining currency value without a satisfying mass produced Mexifood experience.
Tags: burritos, chips, doubledilla, fire sauce, salsa, Taco Bell, tacos