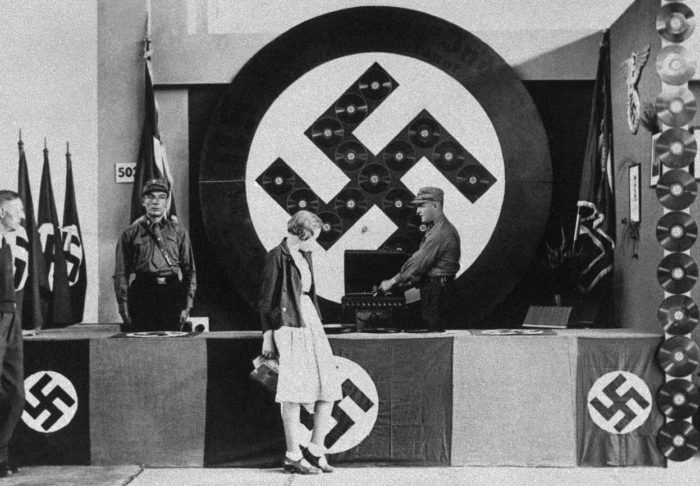 There is a religious war going on in our country for the soul of America. It is a cultural war, as critical to the kind of nation we will one day be as was the Cold War itself.1
Many metal-heads think that metal died out as a genre because it went corporate and lost its edge. Undoubtedly more commercialized metal appeared, as it always does whenever a genre becomes popular and therefore, profitable. There is more to it than that, however, as larger cultural forces and schemes were at play.
The question of commercialism arose because there was a bridge between power metal/jock metal (e.g. Korn) and more old school thrash metal (Metallica/Slayer) which was never gapped. This paralleled the gap of a decade earlier, when the gap between metal bands like Motorhead and hard rock bands like Van Halen divided the fanbase between album listeners and radio listeners. This gave rise to entire subgenres like black metal, death metal and grindcore which were deliberately designed to avoid having large-scale commercial success. That in turn triggered the rise of the 1990s version of glam, grunge, which was basically slowed-down indie-rock influenced hard rock.
Back in 1992-93 (when I was in high school) you still had bands like Pantera hitting number one on the billboards. It was still a generally cool thing to be a metalhead. What struck me as odd at the time was that I noticed the image of the metalhead started to become more manipulated by the media. Beavis and Butthead is what really stuck out. I remember thinking at the time that there was really no comparable show making fun of dumb rap, rock, pop or country fans.
Beavis and Butthead were depicted as total losers who not could never get laid, but could barely function in the context of a normal life. And while metal-heads in real life are cool partiers or else nerds, these two were not from either group and basically hardly had friends, except for Stuart (the lame Winger kid). MTV canceled Headbangers Ball a few years later and shifted away from music videos, which had been the a main driver of metal's mainstream appeal.
In mainstream mass culture, something similar was happening but to white kids in general. TV show after TV show and just about every commercial featured characters portraying the average white guy as a dumb, balding stubborn idiot, basically Beavis and Butthead grown up. Some of these were actually great shows. Married with Children was funny and showed the bleakness of modern life, although not to the point of making people want to stop going to work and paying taxes. The Simpsons were yellow in color but sounded and acts like typical supposedly dumb, square average white people.
Meanwhile, Hollywood cynically used African-Americans as both bogeyman and mystic. Shows with black leads such as Fresh Prince and In Living Color aired around the same time and went out of their way to depict urban black culture as the cool new thing. Black Entertainment Television (BET) took over from MTV by playing videos extensively, but these were R&B and rap/hip-hop, with no rock, metal or country in sight (for obvious reasons). Every movie had a black president, Morgan Freeman played God in film, and radio and television shifted toward rap as their primary focus.
That event pushed mainstream rock music into effete insipidity. The momentary flash of metal-like music on the radio ceased as Kurt Cobain and Layne Staley died off and were replaced with the wussie likes of String Cheese, Crash Dummies, Hootie and the Blowhards and the Dave Mathews Band. Pearl Jam denied their metal side and tried to make boring rock that revisited the vibe of the 1960s, which showed us what was actually happening here.
Rock music arose from a cultural war. People began to hate majority culture and wanted to rebel against it. In order to do so, they went to what was called "race music" before Elvis: the black-oriented R&B and blues music which was taboo because of its perceived associations with criminality, promiscuity and drug use in addition to old fashioned racial alienation. This paralleled what jazz had been a generation before, to the point that the Nazis banned it and many halls in America and UK would not tolerate it.
To hurt the majority, you embrace the Other, however it is defined. For this reason, 1960s rock dabbled in black culture, Communism, Satanism and hedonism. It reflected back the fears of the majority and tried to make them into positive values. This gave it a perceived "authenticity" which suburban kids, growing up in a fake world of corporate jobs and over-advertised products, took to like a fish to water. The labels cared nothing for the fate of black Americans, but greedily used them as a symbol of fear and otherness. But in the 1970s, this approach faltered.
When the hippie rock fizzled out, it faded away into a series of recaptures by majority culture of the rebellious spirit of rock. Progressive rock referenced classical; album-oriented rock drifted closer to country and folk but in a new, technological form; heavy metal revisited the themes of opera and Romantic literature through streams of distorted power chords; punk found a greater level of rebellion and musical simplicity than blues and rock. This threatened the hegemony by which industry sold its product in opposition to the majority.
In the 1980s, the music industry realized it had lost the narrative when an explosion of nerdly white music dominated the radio. The UK bands and synth-pop artists took over, heavy metal went underground and then rose again, and Stevie Ray Vaughan dominated the blues. This removed the exclusive hold that the music industry had over its audience, which was by showing them the antithesis to normalcy and selling it as desirable, which was important in business terms because it provided for a product which could be made cheaply en masse and could provide guaranteed sales.
When music was not under their control, music execs had to wait for new artists to emerge and then pay them real wages. When they could institute a process, sort of like harvesting grain or refining metal, they could create a stream of similar artists who could be hyped into hits. This is no different than how American beer companies make sugar water and then throw millions into advertising, allowing a mediocre product to be more profitable than a quality one, which owing to the lower cost of the mediocre provides higher margins. This was a business decision.
As a result, in the 1990s, the record labels decided to reprise the strategy that had worked in the 1920s, 1950s and 1960s by using hip-hop/rap instead of jazz, blues and R&B. This was a business decision, not a racial one, with the race aspect working only because race is as divisive in America as in Israel, or as religion is in Northern Ireland. The Other sells, especially when kids are facing a life of brutally tedious corporate labor and frustrating, uptight suburbs with militant HOAs and humdrum delights like block parties and 500-channel cable.
With songs almost exclusively about drugs, pimping, and gangbanging an entire generation of brainwashed youth was induced to embrace the idea that it is cool to be an urban brain-dead sports, weed, and fashion zombie. This enabled the record labels to recapture the ownership of the most important intellectual property in entertainment and use it to sell a host of related lifestyle products, massively increasing their cash flow. This was particularly necessary to counter the rise of indie and DIY record labels like Sub-Pop in the 1990s.
Other industries were cashing in at the same time. The auto industry, having seen its products fall with the rise of global competition in the 1980s, retaliated by making Sports-Utility Vehicles, or inexpensive trucks with grafted-on cabins and luxury automobile accessories. This enabled them to sell inexpensive designs based on the trucks of the previous generation without having to contort to adapt to the high safety requirements for sedans. Their profits also boomed.
Drunk on cheap labor from China and the low-cost consumer products it created, the buying public became enthusiastic about these new products. There was a sense that America had peaked, in that all of the big struggles were decided, during the Clinton years. The "right side of history" had triumphed and won the culture wars, and now there were profits for everyone flowing from the decisions that led to that. The hangover only came from the seemingly permanent recession cycle which started about the time of the World Trade Center attacks.
In the late 2000s, thanks to digital streaming services, the record stores began to die. Camelot, Tower, Musicland and many of the stores that turned 90s youth on to rock and metal disappeared. Hard rock stations also began getting snatched up and turned into classic rock or Latino stations, likely thanks to Clearchannel and the FCC simultaneously exerting pressure on traditional radio. This removed the power of radio, and transferred it back to the record labels.
The internet proved a challenge to their model however because it decentralized music delivery. Instead of radio and albums, the new consumer model appears to be streaming audio and video services that operate like radio, but with more choice for the consumer. The paradox is that too much choice has been delivered, and because of the lack of "gatekeepers" like zines, radio and record stores, consumers find themselves adrift in a sea of music that mostly sounds the same, because the market pressure on those bands is to "stand out" by delivering novelty, not quality.
For example, the democratic nature of Youtube diffuses the viewership of metal by distributing the views among thousands and thousands of bands where MTV had once effectively spotlighted a handful of bands, which was actually counter-intuitionally better for the genre. Bottlenecks of that nature tend to pick the most popular out of any style, and then others follow suit, developing the genres. It also allows an underground to exist that chooses contrary values and unites on that choice.
At this point, metal has lost the culture war. The mainstream audience has been turned to rap, and the underground has been abolished, which means that to produce metal is to barely scrape by. Even more, music itself has become unprofitable for most. There are a few Lady Gaga and Beyonce level superstars, but everyone else works for lower middle class wages as they try to get enough Facebook "likes" and YouTube impressions to sell merch and music.
Even more, metal has been made into the wrong kind of rebellion. Rap offers a vicarious venture into a world most of its listeners will never inhabit, much like 1800s bohemians emulating the gypsy lifestyle but from their comfortable homes instead of cramped caravans. It enables these listeners to feel like antiheroes for a few hours and then go back to their boring corporate jobs in the morning. Metal represents a real threat to that ideal, and for that reason, industry has excluded it.
Tags: beavis and butthead, culture wars, Heavy Metal, pantera, rap