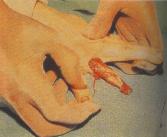 Death metal uses tremolo strummed power chords in phrasal riffs, creating an internal dialogue of melody to project a narrative which takes us from a starting point through internal conflict to an ending radically removed from the start. This often complex music relies heavily on chromatic scales and solos that resemble sonic sculpture more than a reliance on scales or harmony, and use "modal stripes" or repeated interval patterns (such as a half interval followed by a whole) to maintain a mood. Inherently structuralist, death metal can be recognized by its "post-human" perspective, seeing the world through biology, history, warfare and mythology instead of the "I/me/mine" viewpoint of a modern society.
House recommendations: Morbid Angel, Slayer, Monstrosity, Cryptopsy, Suffocation, Therion and Vader.
BEST EVER
COMPILATIONS
Projections of a Stained Mind (C.B.R. Records)
Harmony Dies Vol. 1 (Slayer Magazine)
Pantalgia (MBR Records)
Live Death: Vol 1 (Restless)
Sampler Volume I (JL America)
Deterioration of the Senses (Morbid Metal)
Book I: Induction (Hits Underground)
Reviews have mp3 sound samples for each album, coverscan, tracklist and label contact information.