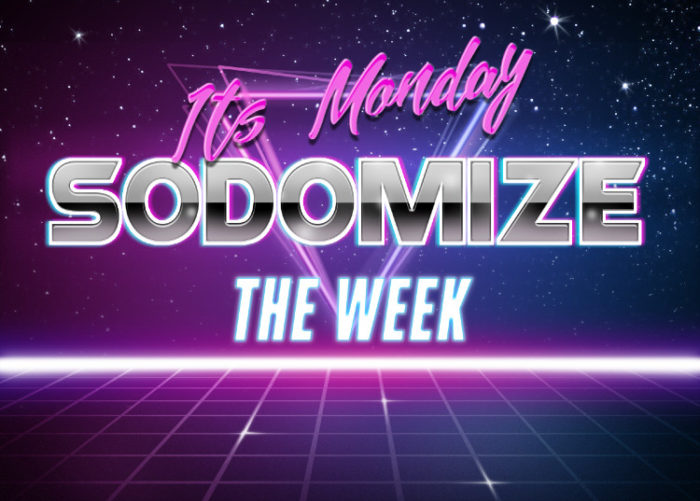 I know that many of you have comments regarding the future of the DMU and what direction it should take, and I want you to rest assured that I do not care at all what you have to say unless you are one of the 5% of humanity that is capable of actually doing something, i.e. making a contribution here. The rest is just chatter by filthy little monkeys posturing at self-importance and trying to stay relevant because their lives are entirely irrelevant.
The internet — which now serves the same role that daytime television did in the 80s — has become an echo chamber of the self-important as they try to use pretense and pretending to make themselves appear more important than other monkeys. An internet "intellectual" or "virtue signaler" is the equivalent of a monkey decorating its fur with cast-off bottle caps. The internet has given rise to many terms describing variants of this behavior, like humble-brag, frenemy, and SJW. It is all the same pathology: the scream of the insignificant for attention.
Newsflash to monkeys: you only become important by doing something for other people or, better, some thing that people find meaning in. I write about sex, drugs, politics, and metal; all of these enrich lives when done right, and destroy civilization when done wrong. In my experience, most people want life to be like a grocery store where they just select what product flatters them and makes them look special to the other monkeys, and then not have to invest any more time in the upkeep of those products or responsibility for their decisions. Ideally, it would be like buying junk at Wal-mart: you take an identity off the shelf, pay for it, take it home and use it, then toss it thoughtlessly in the dumpster, ignoring the towering pile of landfill slowly consuming your world.
Perhaps the above was harsh. It is not so much that I do not care about what non-doers think, but that I have no time for it because they have no skin in the game and thus, by the rule of human socializing, they are simply posturing. 99% of the suggestions made to this site are made in public by people who want the other monkeys to start screeching in approval. They hope to gain a rise in troupe status (sorry, "social" status) by tearing down something above them; this is a common activity of the nearly intelligent, sometimes called the merely clever by pedantic but accurate elitists.
Let me explain to you the situation so that you can use it to make more informed misinformed monkey critique: this site has fallen on hard times. When the internet was mostly the domain of brainier people, content like what is produced here was rewarded. But once the television crowd comes in, they want intellectual posturing like is found at idiot magnet sites like Wikipedia and Metal Archives; they do the same thing to the music, as well, which dovetailed with the reduction in quality of the underground as its original bands expressed their fundamental ideas.
DMU does not face this problem alone. All of Western Civilization is facing the same "race to the bottom" in pursuit of whatever trends and fads please the herd at that very moment because when a half-billion monkeys with money decide they like something, whoever owns it finds themselves rich enough to exit the modern cycle of jobs, stress, shopping, drunkenness, and politics. You can take your hundred million and buy yourself an island off of one of the tourist-stabilized third world nations and then hire private security. The rest of your life will be quite pleasant. This is why people are obsessed with making their own mediocre version of whatever is in the news or trending on Twitter, and it is why underground metal was opposed to trends, instead looking toward what is timeless, eternal, perpetual, perennial, and otherwise not just a monkey herd behavior.
DMU can succeed, but it requires acknowledging the truth of the situation.
The first ugly reality is that there are many audiences and they prefer whatever flatters them, and there is a solipsistic unrealistic nerd contingent on the internet that only wants long articles bloviating about concepts from community college philosophy classes and TED talks. This audience murders anything good because they miss the point that actual thinkers are not merely "intellectuals," or those who think to have a reason to be relevant, but applied theorists, or those who think about things which can produce real-world improvements.
The second ugly reality is that this "autistic" nerd contingent, which really got a kick-start with Swedish degenerates like Opeth and Meshuggah, exists as it does mainly because the rest of the audience is even more blockheaded. The Pantera kids — true American degeneracy — are the classic case of rock listeners who want the appearance of metal. They will moronize even the best forms of music, but anything of actual intellectual challenge drives them off; they can like the Eurasian-era Burzum albums, but are baffled by the first one, for example. They will proudly display their Tchaikovsky and Copeland albums, but find Bruckner inscrutable. Both they and the "autistic" nerd contingent are examples of the Dunning-Kruger-Downing effect, and they drive away anyone intelligent, which dooms a genre to stupidity and thus, failure.
The third ugly reality is that most people simply want good music but they are not going to commit much further than to choosing a radio channel, stream, or site to tell them what to listen to. They are not music nerds or obsessives. They have lives and reasons for their importance — usually local reasons, like family, career, culture, and proficiency — outside of music and they do not need to use it to posture around. This audience is virtually unrepresented on the internet because they are also not prone to spend a lot of time dicking around social media, forums, and search engines. They have other stuff to do, but they like killer tunes.
To reach this audience, we have to be popular enough that we are highly visible, and yet distinct enough that they can grasp what we are on about. This requires covering more mainstream heavy music. The point is that if people find a trusted resource which adherence to the DMU's mission statement of elitism, or praising only the good music so that Darwinistic natural selection drives out the bad, they will follow it, and then will pay attention to its underground metal recommendations.
The monkey troupe wants a site that praises crap so that the monkeys can feel validated for their own poor taste, which is another way of saying that useful idiots want to be "equal" so that no one notices they are idiots and downranks them for being less useful than people who are not idiots, or at least, less idiotic. DMU has stood against this mentality for years because it leads to crap music becoming profitable, which in turn causes more crap music to be created, at which point talented musicians flee the genre because they realize that they will be ignored while crap is praised, which basically makes these talented musicians waste their lives in exchange for abuse.
If you want a future for this site, it can be found in being effective, which requires the initial appearance of selling out so that the site can deliver the one message that cannot be sold out — good to the good, bad to the bad — and therefore in turn requires people of wisdom to implement it. Everyone else will screech for their own personal pretenses and in doing so, both fail to achieve what they claim are their aims and waste the time of anyone involved.
Tags: anus.com/metal, decline and fall of western civilization, dmu, metal-archives, sodomize the weak, wikipedia