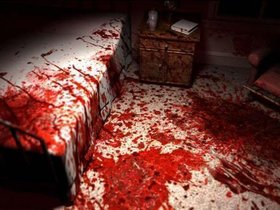 by Hereweald Cola Algar
Weakness is a disease, and pity is the enabler.
As truth, this causes the masses drugged with the opium of equality and other blank slate derived fallacies of humanism to raise their voices in an outrage of slave morality. Behind their displays of pity is the simple individualistic formula whereby they realize that if other useless weaklings can be brought to heel, then they are not safe from being put back into the place that their character and abilities really deserve. By exercising pity, the bad is not only allowed to fester but is in fact promoted when shown that it is not necessary to be outstanding to reap the immediate material benefits that, in the past, were reserved for those who rose above everyone else.
The obvious part of this is imperfect form- especially when it arises from leftist-tinged ideologies- as it tends to erase the impetus that metal naturally has towards the Faustian, and instead veering towards vulgar solipsism. We know that all is connected, and that the outward form of something is an inevitable reflection of inner traits. What the average IQs miss in this equation is that judgement based on form, and the analysis that leads to a connection with what lies deep inside, is not trivial. The straightforward road can only give us clues and judging from form alone cannot provide the whole picture.  Form, moreover, must be stressed as a way towards excellence and not the point, for otherwise it is simply a matter of time before we descend to the level of a short-sighted materialism, the kind which the likes of Mikhail Bakunin and other Early Church Fathers of the Left Hand Dreg espoused.
A less obvious side to a path to elitism is that inner spirit is, on the practical level, more important than proper form alone. Death metal of proper form abounds yet they are essentially nothing more than stale replication. Spirit implies an inner uniqueness, which is derived slowly, heard 'in between the lines' of form.  Concretely speaking, one detects spirit by 'connecting' to the passage of ideas and sensing the whole within and without that passage. Here, we use the term 'idea' to refer to units of musical structure which can be perceived by the listener as full sentences that encase a meaning; though more than a meaning, we should speak of a intuitive unit, a wave of apprehension, a passing ghost.
In short, while we should strive to correct lacking form, the real problem to be addressed is the mentality that underlies it. In doing so we attack the root, killing off those who are rotten, while healing those who can be healed. For metalcore, there is no salvation: he who cannot organically and intrinsically feel the sheer idiocy within this music of the urban rednecks of the spirit, there is only death as redemption.  For war metal and other pseudo black metals, it seems to be a matter of filtering out those who have enough IQ to see that there is something more to this music, and then let those with character to admit their mistakes, and brave enough to renew themselves, to step forth.  And while the work of each individual should, ideally, be scrutinized in order to evaluate potential, logistical conditions forbid it as entirely impractical.
What this means in terms of how we address bands is that instead of only referencing a glorious past, we will redirect our attention to how the present can bring future glory as a function of that great past.  As a rule, the future cannot be like the past, if it is to be alive and a true reflection of the unique conditions taking place.  The essence of things may move like tides, or cycle through, but the times are not the same, the totality of the universal state is not the same, and thus, future incarnations and iterations will of necessity lie in uniquely differentiated points in the continuum.  Whatever clings to the past must be obliterated, and nothing is forever.  We want to learn from the past, but must avoid trying to repeat the past.  For repeating the past would signal inner mediocrity despite any and all excellence in craft.
What this means in terms of the team of writers that is currently taking shape on this site is that we will act without pity for passing support or the so-called loyal readership.  What is needed is forward-looking action, an eye on eternity rather than only on what pleases this or that crowd.  The necessary crowd will be addressed (without selling out) so that the furtherance of our goals can take place.  Any excuse for inaction or failure to live up to responsibilities will be punished with dedicated sodomy followed by a swift discarding. Whining will be met with sadistic sodomy, a contrariwise action to all of your desires based on false notions of entitlement.
Lastly, in acquiescing to weakness and pity, those who are strong themselves start a diseased journey through decadence. Not only can we not bend to present mediocrity, but the complaints by the hoards destined for the pools of oblivion will not be taken as anything else than noise. Until now, doing so has only eroded the energy, patience and sanity of more than one editor and writers. From here on out, this will be a bleak place of torture and unlikely mental prodding.
Tags: 2017, 2018, death, form, future, Philosophy, rebirth, sodomy, strength, victory