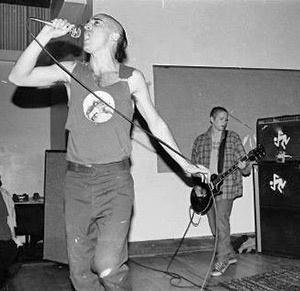 A lot of the death metal gems we listened to (and still listen to) during the heyday of the genre would probably never have been possible if it weren't for this 22-song, 17-minute 12″ crossover piece of awesome.
Dirty Rotten LP is "as punk as it gets" some would say, and, indeed, structurally it's hardcore punk all over. But D.R.I. (or Dirty Rotten Imbeciles), hailing from Houston, Texas, managed to do something fruitful with heavy metal riffs in this furious punk context and paved the way for the devilish energies emerging in bands like Slayer. The rest, as they say, is death metal history.
30 years after its initial release, it's surprising to hear how potent these short bursting songs are. While some of the lyrics are dated, the project as a whole nevertheless seems relevant enough to this day. Inventive and playful, this album will still take you places: the music moves like a bulldozer on speed through a tangle of asphalt, and suddenly the bitter-sweet destruction of society becomes a playground where artifacts of modern society just wait for us to smash them to a pulp.
Now go grab your abstract baseball bat and thrash your way through to sanity!
http://www.youtube.com/watch?v=LNwQbJB4PT4