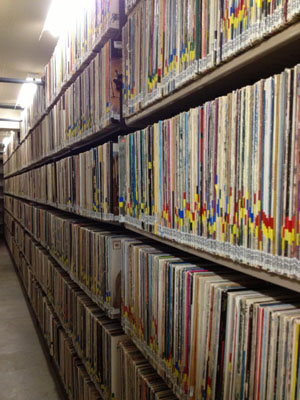 Dr. David Hunter is a music librarian at the University of Texas in Austin. As part of his work curating the Historical Music Recordings collection, Dr. Hunter stockpiles heavy metal for future academics to study.
Since 2007, metalheads have been sending metal albums and zines to the library as part of an attempt to inform academia further about heavy metal and the associated genres of death metal, black metal, speed metal, grindcore, doom metal and thrash.
Dr. Hunter writes on musicology and historical topics in music and has published articles in academic journals since 1985. His book, Opera and song books published in England, 1703-1726: a descriptive bibliography (1997) and articles in the Grove Music Online musical dictionary and Die Musik in Geschichte und Gegenwart attest to his credentials as a writer.
If you want to help Dr. Hunter and the Historical Music Recordings collection at the University of Texas, send him some metal:

Dr. David Hunter
Fine Arts Library (DFA 3.200)
University of Texas Libraries (S5437)
2306 Trinity Street
Austin, TX 78712
USA
Office: (512) 495-4475
Fax: (512) 495-4490
Library: (512) 495-4481
david.hunter@mail.utexas.edu

Tags: academia, david hunter, metal academia, university of texas