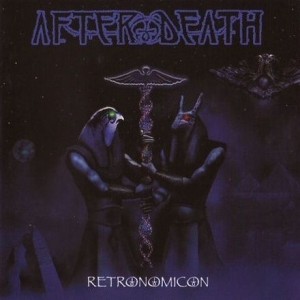 Retronomicon compiles the demos and EP of After Death, the band Mike Browning formed as a replacement for Nocturnus as Nocturnus A.D., and then renamed to avoid confusion with the other version of Nocturnus that resurrected itself briefly in the 2000s.

While the roots of After Death are in death metal, the majority of this music is epic heavy metal or what would be called power metal at this point. It uses heavy metal riffs, has a melodic sense similar to that of later Budgie, and has a theatrical atmosphere like more recent Therion.
Most importantly, the rhythms and the way riffs fit together are not in the death metal style, but sort of like a "dinner theatre" version of heavy metal. These riffs are closer to leitmotifs than motifs, meaning that they reflect characters or themes of a developing drama directly, rather than conveying changes in overall mood as they do in regular death metal. Add to this groove and bouncy rhythms and what comes out is radio-friendly heavy metal with some death riffs and an occult vibe.
Retronomicon features odd vocals of wide-ranging sounds, some seemingly demonic processed voices, others like children or wailing women, and some in the death growl. This and the tendency to make very theatrical combinations of riffs give this music an otherworldly feel. Add to that the active keyboards that highlight riffs and also provide contrary motions and textures, and the result is the kind of subversively imaginative and esoteric musical pathway that Marilyn Manson and others could barely dream of.
It's unfortunate radio metal did not go in this way rather than the more mundane ways that it did, but if After Death want to go mainstream, they'll have to be a bit more consistently intense and emotional. People like simple because they're generally distracted when listening. This music may be a bit beyond most because it requires an attention span, but it's strikingly beautiful and multifaceted. The Nocturnus influence can clearly be heard in temp changes and the decision points before the conclusions of songs.
This will not be for everyone. Most death metal fans will be turned off by the aesthetics; Marilyn Manson, Rammstein, Ministry, Therion, et al. fans may be turned off by how rough and ambiguous much of this is. However, both groups should attend to this interesting musical pathway that could well be the most subversive and occult thing ever to visit radio.
Tags: after death, Heavy Metal, power metal