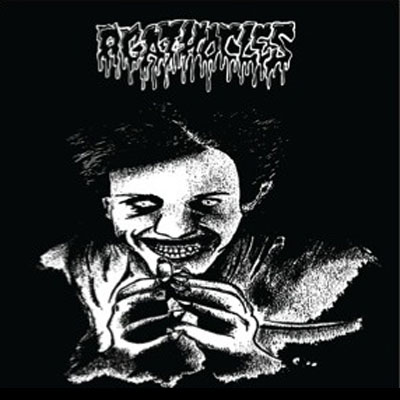 In conjunction with At War With False Noise (UK), Jerkoff Records (USA) and Blackseed Records (USA), Unholy Anarchy Records will release a split 7″ by Belgian grind/mincecore gods AGATHOCLES and Pittsburgh power electronics outfit HOGRA.
AGATHOCLES have for over two decades created abrasive but creative grind. During that time, the band has appeared on well over 100 split 7″ releases, as well as numerous comps, EPs, demos and full-length albums. The Agathocles/Hogra split sees the legendary trio take an unexpected departure from their traditional and patented mincecore style of grind and unleash two tracks that were written to complement the power electronics of Pittsburgh's HOGRA, who have built a solid catalog of splits, tapes and EPs over the past year.
Those who were around in the 1990s may remember Agathocles' Theatric Symbolisation of Life, an artistic yet not reality-removed album of inventive grindcore. The band have since then continued to tour, release and antagonize, providing us with enjoyable music in the meantime.
Tags: agathocles, Grindcore, hogra, power violence