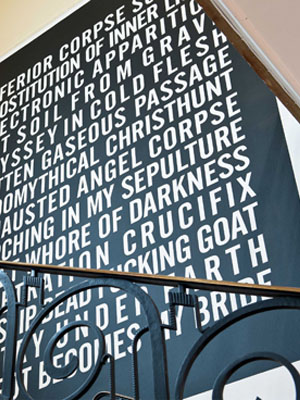 From May 18 through September 15 of this year, a new kind of art exhibit is coming to the notable Casino Luxembourg gallery. This exhibit, entitled Altars of Madness, "displays and brings together the works of art of a generation of artists affected by extreme metal" through the use of imagery and content similar to that in extreme metal.
Even better, the exhibit explores the origins of metal and explains some of the purpose behind these genres. "Extreme metal emerged in the second half of the 1980s through three distinct musical genres with different principles, aesthetics and evolutions: grindcore, death metal and black metal. Like all underground cultures, extreme metal is not something that can simply be passed on: you have to experience it on your own," says the exhibit program. This is a far cry from the media treatment of metal in the 1980s, 1990s and even 2000s where it was viewed as a sort of hard rock with better costumes.
The exhibit is divided into three parts, corresponding to those three genres. "Lucid fairytale," "Death is just the beginning," and "Dark matter landscape" each reflect the different values of each period. The grindcore exhibit "emphasises the political dimension of extreme metal," by which the creators seem to mean grindcore. The death metal exhibit uses memento mori and vanitas symbolism to embrace mortality. Finally, the black metal exhibit explores nihilism, violence, Satan and "the romantic or symbolist note to black metal" which is a recurring theme.
On the whole, this exhibit explores metal in a way that is rarely done and needs to be done more. It's not surprising that many of the artists listed are either experienced within the genre, used by the genre, or may even be pseudonyms, including Matthew Barney, Nicholas Bullen, Larry Carroll, Grégory Cuquel, Damien Deroubaix, Seldon Hunt, Gregory Jacobsen, Theodor Kittelsen, Harmony Korine, Élodie Lesourd, Juan Pablo Macías, Maël Nozahic, Torbjørn Rødland, Steven Shearer, Mark Titchner, Gee Vaucher, and Banks Violette. You might spot Nicholas Bullen and Theodor Kittelsen right away, as well as metal popularizer Harmony Korine (Gummo).
For more information, see the exhibit program or visit the gallery page.
Tags: academia, art, Heavy Metal