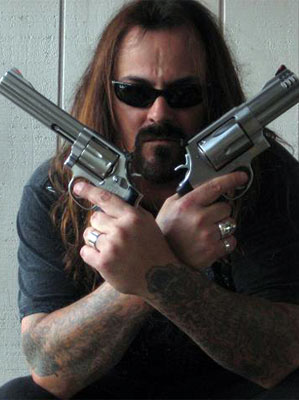 For the last decade, the United States military has used loud rock music to torment captives from the war on terror. Isolated in dark cells, the captives are subjected to blastingly loud music on repeat for days at a time.
The international human rights agencies have been unanimous in their declaration that this is not torture until. Amnesty International spokesperson Bob Cratchit revealed that recent media sampling has provided a reason to declare this torture and end it.
The U.S. military has found the music handy at times. According to Mother Jones magazine, a song from Deicide's album "Scars of the Crucifix" was played during interrogation of detainees in Iraq. The band said it was proud to do its part for the war effort. – AP
According to Amnesty International research, Deicide ended as a musical force after Once Upon the Cross and their remaining output is "so dishearteningly disorganized, aimless and without artistic merit as to create suicidal impulses in the listener."
In fact, Cratchit added, "This music is so bad that most of our test subjects would only consent to listen to it when the only other option was Nickelback. Several test groups chose Justin Bieber's 'Baby' on repeat over the later Deicide."
Amnesty International acknowledges that early Deicide, from the self-titled album to the epic and devasting Legion, is ranked among the treasures of humanity. "Even Once Upon the Cross is an amazing album, although nothing like Legion."
The US Fifth District Court held the injunction hearings and sampled the music in question. "The justices could tell right away," said bailiff E.L. Saunders. "Old Deicide was distinctive and artistic, but the new stuff is a morass of confusion, like tormented souls locked in Wal-mart for eternity."
The lawsuit by Amnesty International and three dozen other human rights and civil rights organizations allege that later Deicide, especially repeated, is a musical transgression that amounts to human rights abuse. Their lawsuit is pending before the courts at this time.