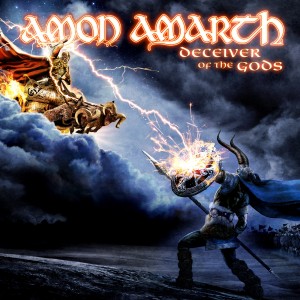 Fans of Amon Amarth will find their latest offering Deceiver of the Gods to be a solid continuation of the band's heavy and bloody recapitulation of Norse mythology, albeit a little less heavy and a little less bloody. 
Those new to the latest album by this 14-year-long line-up of Swedish death metal royalty will find a great introduction to their sound and ethos. While Deceiver of the Gods does not have the intensity of classics With Oden on Our Side or Twilight of the Thunder God, this album certainly offers everything expected of an Amon Amarth album. 
The first two tracks, "Deceiver of the Gods" and "As Loke Falls" show a strong Iron Maiden influence.  "Father of the Wolf" — for which a video is being produced — is thrashier.  "Shape Shifter" is an epic song that proves a bit heavier than the offerings to this point. "Under Siege" steps things up nicely with a fairly intricate opening, a much more complex structure overall, and a couple of extra minutes to develop.  At 6:17 it is the second-longest song on the album (and this reviewer's favorite track) and exemplifies the melodic death metal aesthetic Amon Amarth has so adroitly sustained year after year, album after album. "Blood Eagle," "We Shall Destroy," and "Hel" are solid tunes if a bit tiring; "Hel" also features the vocal contributions of Messiah Marcolin, notable for his work with unique doom metal band Candlemass. "Coming of the Tide" drives harder, and the energy it brings — as well as tempo changes and nice guitar work — recall the intensity of earlier albums. The eight-minute epic "Warriors of the North" closes the album with classic Amon Amarth flair.
Those interested in the deluxe edition will find a four-song EP-Under the Influence– included.  Each song appears to be a tribute to an influential band. "Burning Anvil of Steel" (Judas Priest), "Satan Rising" (Black Sabbath), "Snake Eyes" (AC/DC), and "Stand Up to Go Down" (Motorhead) constitute an intriguing contemplation of Amon Amarth's sources.
Expertly produced, mixed, and mastered by veteran metal-maven Andy Sneap (originally of Sabbat UK), Deceiver of the Gods is a good album and well worth the asking price. Fans will appreciate the new material and those new to Amon Amarth and/or death metal will find this album a worthy introduction.
Tracklist:
Deceiver of the Gods (4:19)
As Loke Falls (4:38)
Father of the Wolf (4:19)
Shape Shifter (4:02)
Under Siege (6:17)
Blood Eagle (3:15)
We Shall Destroy (4:25)
Hel (4:09)
Coming of the Tide (4:16)
Warriors of the North (8:12)
Tags: amon amarth, Melodic Death Metal