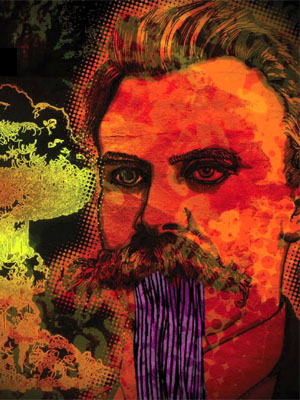 I've been listening to "God Is Dead?"-the first single off Black Sabbath's new album 13, since yesterday. It's really good and really Sabbath. I'm obsessing. And maybe I'm a rabid fan who's lain in wait and whose enthusiasm has gotten the better of him. But this is enlivening me in the way only music can. So, I'm going to return the favor and Analyze It to Life.
I've been waiting for this all this time. I'm not disappointed at all. But in a way we have two songs here. The first 4:00 or so are great. Wilk's drumming is Ward-esque in places and seems almost respectful of Bill's sound somehow, especially at :30 behind those power chords that hit us in the face–a taste of what's to come. But it's not quite the Sabbath I was waiting for–yet. The vocal starts, sounding a bit like an Ozzy song, perhaps because he doesn't have the pipes he did 40 years ago. I'm glad he made the adjustment and went with his current ability. Ronnie did that on The Devil You Know too. It's the right choice. The lyrics are super dark and REALLY like the old Sabbath. Tony and Geezer are holding back. I'm still waiting for it. I still needed some Sabbath in my Sabbath. Then the chorus hits at 2:16 and at 2:26 that super-doomy descending lick hints at the Sabbath sound. It made my heart go faster. The entire chorus is the doomy, Sabbathy sound I want. But they are still holding back. It's clean. It's not quite Sabbath yet.
Then they go back for the next verse. It's more intense now because the chorus has put us on notice. Something is coming after this second verse.
WOW! Does it come! At 4:05 that Sabbath discord starts in behind the verse "When will this nightmare be over? Tell me!" But musically, the nightmare is beginning. Did they mean to do that? Anyway, in my 35 years of listening to Black Sabbath, Tony has seldom used discord just to use it. It's a signal. And THEN, right AFTER "Tell me!" at 4:09-4:10, it all changes and becomes Black Sabbath and never turns back. Tony does what only he does. If you've seen them live or on video, you will see him slide up and "shake" the chord. I don't know of anyone that does that. All this time, all these guitarists, and ONLY Tony Iommi does that. Then after the lyrics "When can I empty my head?"–a classic Iommi riff (4:17-4:18), then a reprise of the aforementioned descending lick, and an expansion the power chords at 4:10 into back-and-forth riffing that makes us want to erupt. It's a crescendo, really (that doesn't stop, this riff actually takes over the song here). The lyrics ask "Is God really dead?"; the music behind it screams "ANSWER THE QUESTION"!
NOW, that riff churns forward, pushing. We were invited to listen until 4:10. We are being compelled now. This is classic Black Sabbath. That relentless, hypnotic intensity that won't let go. At 5:38 we get to the chorus with that descending lick again. Then at 5:48 they reprise the power chords from :30 into the song. It's a set up.
These chords are a bridge to the break at 6:19. This break is amazing. It seems like something off the first album or Vol. 4 (or Falling off the Edge of the World off Mob Rules). The guitar starts it. all by itself. It's CLASSIC SABBATH. The at 6:27 Geezer Butler kicks it into high gear. He never lets up. He proves once again that he is the king of metal bassists. Another verse soars above the chugging riffs. All the musicians are doing the same thing. CLASSIC, CLASSIC, CLASSIC SABBATH. Then the chorus again, but under it Geezer starts what will be one of the best performances on bass guitar–I'm going to say it–anywhere in the Black Sabbath oeuvre. It's relentless and never really stops. Even when the songs slows, his playing does not. He's the unsung hero of this band. I would put him up against anyone playing bass today, in any genre. The solo has a 60's sound to it. It's not very long-about 15 seconds (7:38–7:53). In fact, it's bluesy. What an interesting choice. I think it's perfect. I can see how it would have been cool to extend it a bit, but the musicianship and intensity so far have been so powerful that a solo isn't needed for the song to have a high point. In fact, Geezer's playing behind the solo is almost soloing itself. He's playing much faster than Tony.
We have a minute left. The exeunt is the descending lick behind repeated "God is dead" chorus. Solid, unified wall of sound-classic Sabbath. The chorus leaves us with a rather definitive statement "I don't believe that God is dead." Then it stops.
There is surely a strong Ozzy aesthetic early in the song. I'm glad for it really. We're used to Ozzy, and it's a comfortable start. Wilk is no Bill Ward, but he really does very well here, and at times, as I mentioned, he pays homage to him. But the first four minutes are a build up, like a prerequisite course. The rest of the song is pure Black Sabbath. Tony and Geezer are as good as they ever were.
I don't believe that Black Sabbath is dead. I believe they are more alive than ever.
Originally posted on Prof. Jacobsen's Facebook Notes page. Reposted with permission and gratefully used.
Tags: black sabbath, Heavy Metal, proto-metal