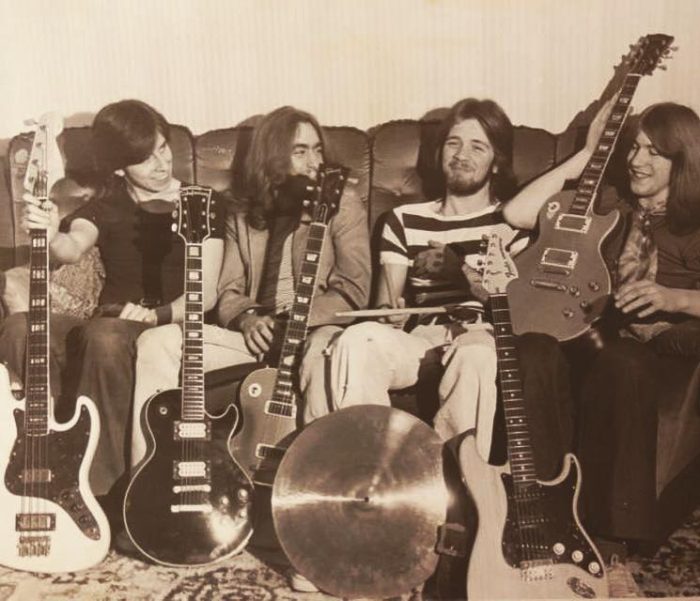 Angel Witch has release the 1970s demos that they still hold the rights and tapes to for pay as you go digital download on Bandcamp. The renowned New Wave of British Heavy Metal band did this to benefit the survivors of the recent tenement apartment tower fire in London. All of these tracks were on the now out of print Sinister History CD along with contemporary live recordings. Death Metal Underground strongly advises all fans and downloaders to not pay anything or contribute anything to this funding attempt at social justice warring and undermining western nations.
The victims of the fire were mostly Muslim economic leeches living on government handouts in subsidized housing. Parasites brought to the United Kingdom by leftists, fed by leftists, and killed by leftists. The leftists gave tax breaks to appear more "environmentalist" to their neo-hippie supporters by allowing them to attach highly flammable insulation foam to the sides of buildings. Foam that is mostly illegal to use inside buildings anymore as it is a seriousfire risk. Idiocy begets idiocy and nature always finds a way to kill everyone as death is the grand leveler. Leftist idiocy just accelerates both the decline of the traditional culture and the death of everyone, including those brought into replace the traditional inhabitants in order for the sycophantic crypto-Marxists to maintain political power by providing bread and circuses to a new generation of gullible idiots.
The British government is throwing millions of pounds of British tax payers' money at them already. Do not pay for Angel Witch – Seventies Tapes. Do not waste your earned money, whether from hard work or the old fashioned way. It will do nobody worthwhile any good and solve no problems.
Do you remember the signs at lakes at a kid telling you not to feed the ducks? That was as with a constantly stable food supply, the ducks will overbreed, become dependent on human bread, dominate the pond, and eventually aggressively attack people having picnics, boaters, and fishers for food until they need to be culled, usually with those specialist implements for hunting waterfowl known as shotguns and retriever dogs. The same is true with leftists- imported violent religious fundamentalists who made themselves into untermenschen with centuries of inbreeding. Stupid people incapable of earning their own bread will vote for whoever feeds them despite allowing them to loot and emasculate the native society meaning there will quickly be no seeds to grow bread left for any of the original inhabitants of the lake.
Feeding the human ducks can only harm you. Let entropy take its toll on their numbers. Hopefully all leeches and leech sympathizers such as terrorism continuance supporter and traitor to occidental civilization London mayor Sadiq Khan will fall victim to nature too. History readers know what happened to such traitors in old England and true Hessians should never pay for this cash grab. Sodomize and stamp down the wretched weak. Oppose all resettlement and download Seventies Tapes for free or not at all. Better yet, just find a copy of Sinister History somewhere.
Tags: Angel Witch, anthology, bandcamp, cash grab, demo, demos, flac, Heavy Metal, idiocy, islam, NWOBHM, sjws, social justice warriors, united kingdom