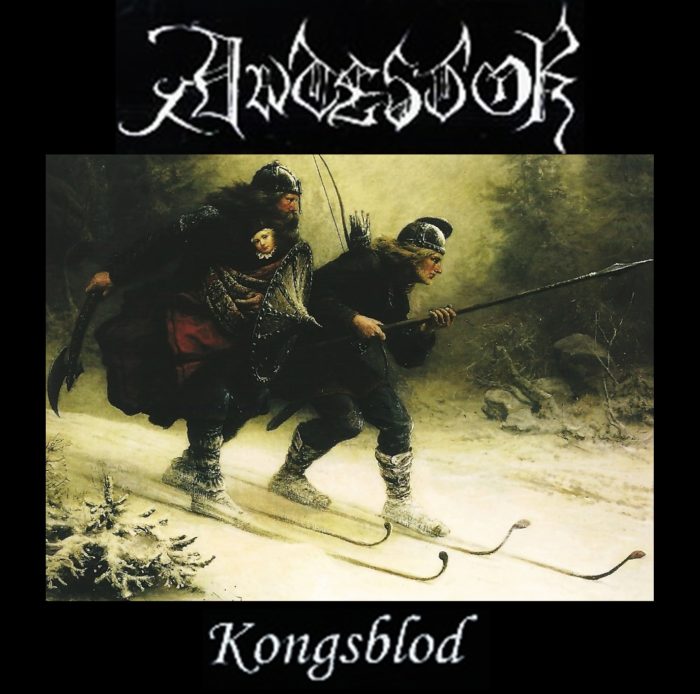 Fuck yes!  Legendary Norwegian black metal band Antestor have re-released their timeless classic Return of the Black Death via the Nordic Mission label.  If you're too much of a sodomite pussy to know, this album was the best release (and probably only good one) on the famed Cacophonous Records, who gave us the earliest works of Cradle of Filth and Dimmu Borgir- those fucking scumbags!  This album was also the precursor to the depressive/suicidal black metal genre that immediately became gay when Xasthur first put on his little makeup kit and started doing blek majick.  Yeah, I bet you thought Sortsind and Burzum started that shit-NOPE!  It was all a second rate ripoff of Antestor's sorrow metal!
Reverting to its intended title of Kongsblod (before the useless Cacophonous Records shat all over it), today marks the first time this fine metallic work will be available on vinyl.  It's also the first time we're getting it in it's truest form, with the correct artwork and presentation.  Ultimately, it's the grandest defiance of one of the worst record labels in all of black metal history  (Cacophonous) who pissed all over the bands original vision because the label owners were these fat disgusting D&D rejects who thought their little wizard characters were real.
The story of Kongsblod/Return of the Black Death goes as follows… Antestor, one of Norway's original (good) extreme metal bands, spent a shitload of time and money recording a full length demo that would hopefully land them a record deal.  It did, but instead of sending them a budget to record a higher quality recording, Cacophonous decided to release the demo as a full length album.  The contract was signed, but when the band sent the artwork and lyrics, the label owners panicked- for they saw something that terrified them like nothing before.  And they knew doom and poverty would soon annihilate their flesh and souls…
You see, Cacophonous were occult sodomite virgins that thought their black magick was going to make them the rulers of the world.  But when they saw Antestor's lyrics, they were struck with a shocking and unforeseen reality- ANTESTOR ARE FUCKING CHRISTIAN!  And so it was, that the label were legally bound to releasing a Christian black metal album.
At the mercy of the same lord they abandoned to pursue a meaningless life of poverty and despair, the founders of Carcophonous decided to conceal the Christianity of Antestor.  They changed the album title to Return of the Black Death, got some cheap 2D cartoon artwork, and censored all of the lyrics.  This censorship was because the lyrics were filled with DANGEROUS things that ABSOLUTELY TERRIFIED them: words like JESUS and LORD.  So this black metal label that acted like they were so tough and badass were reduced to a fetal possession at the horribly offensive possibility that Christians made better black metal than the shit bands on their roster.
The rest was history.  Antestor went on to become the most popular unblack metal band in the world, and Cacophonous records became bankrupt and homeless.  The judgment of the lord was especially harsh on founder Neil Harding (who went by the very gay name of Frater Nihil), who was recently seen on a street corner of London eating bagels picked out of a bag of garbage that a dog had urinated on.  Hey Neil- you're a homeless toothless fuck and if I ever see you out here in the U.K. I'm going to beat the living fuck out of you until you piss your shit-stained pants again!  Your war on Christianity failed, and if my crucifix doesn't get ya you're gonna get knifed by the religion of peace, you son of a bitch!
All and all, Antestor are BASED Templar metal- some of the fucking best- and this release is fucking sick.  This is the kind of shit I'm going to listen to on the next crusade, when I start shoving axes into the skulls and genitals of lefty soyboy hipsters that ruined metal.  Buy it or you're a pussy AND a faggot!  DEUS VULT, HERETIC SCUM!!!
Tags: 90s metal, Antestor, Cacophonous Records, cradle of filth, Deus Vult, dimmu borgir, Kongsblod, Neil Harding, Norwegian Black Metal, Return of the Black Death, sorrow metal, Templars, unblack metal