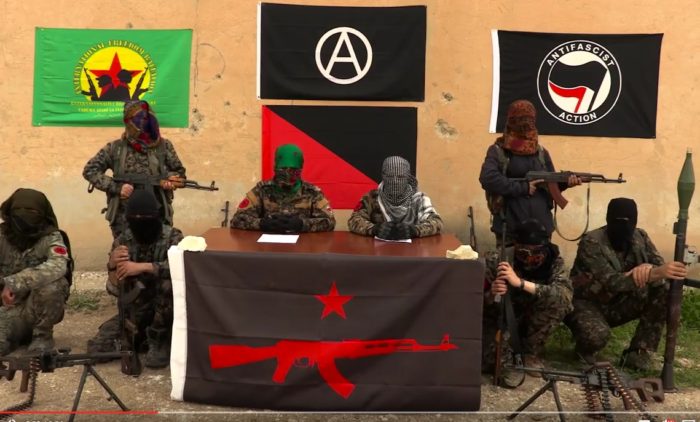 Several founders of By Any Means Necessary, the communist antifascist groups censoring campus speakers and metal bands in Berkeley, have been discovered to support the North American Man/Boy Love Association (NAMBLA), a pro-pedophilia and pederasty criminal organization that works toward the legalization of child rape and exploitation in the United States.
The same people who support Antifa wish to legalize pedophilia, which they are calling "pedosexuality" and demanding as an LBGTQ right, seek to destroy any vestiges of traditional morality so that citizens become morally lost and cling to the government replacement for morality, ideology, instead. To that end, they use ideas like pedosexuality to widen the Overton window on sexual discourse, hoping to eventually make "right" and "wrong" equal so that uninterrupted Leftist rule can commence. They know that in a truly just and moral society, they would be executed as an existential threat to that society's future well-being: its children.
Despite these individuals identifying themselves as Communists, most Communist parties and societies showed no mercy to pedophiles and pederasts. In Slavic cultures, as in the United States and historical Western Europe prior to its post Second World War emasculation, pedophiles and pederasts are the lowest of the low and considered worse than typical murderers (most of whom do not kill again) within the penal system and society at large. The difference is that while sex offenders in American prisons are shanked to death with sharpened toothbrushes and shards of linoleum or clobbered in the prison yard like fat Subway child rapist Jared Fogle, pederasts in Tsarist, Soviet, and modern Russian prisons are marked for death by other inmates and guards. They are held down and tattooed with rapist or pederast on the neck, making them eligible to be killed by anyone for anything.
Those who want ideology to replace reality wish to destroy Western Civilization like the oriental Communists attempted to smash the traditional culture and religions of their societies. Lenin, Stalin, and Mao tried to destroy the peasantry in an attempt to build their socialist utopias; the modern left desires to go further and destroy the founding principles of civilization itself. They do not just have any respect for the lives of their own citizens, they have no respect for animal reproduction that makes more of them.
The left wishes to normalize pedophilia in the occidental world as it is in failed societies like Afghanistan, with its dancing little boys as depicted in The Kite Runner. Just as the left has spent the last fifty years normalizing sexual hedonism, they now want to expand the franchise beyond promiscuity and non-heterosexual sex by rioting and burning, getting tax payers and average citizens who don't sleep with 200 partners a year to pay for the treatment of the biological and epidemiological consequences of their vice rather than simply stopping the behavior (hundred of unprotected sexual partners a year) that resulted in it in the first place.
These people hate metal for the same reason that they hate civilization. For them, the only goal is equality, which means a rioting herd dragging all things down to the lowest common denominator. No matter what branch of the political spectrum they identify with, these people are fundamentally antisocial and controlling, which is why they shut down metal shows and force propagandistic lyrics into the remaining bands. Before any beliefs they actually have, these people simply want to control you.
Tags: AIDS, antifa, antifascist, antifascists, communism, communists, homosexuality, metalgate