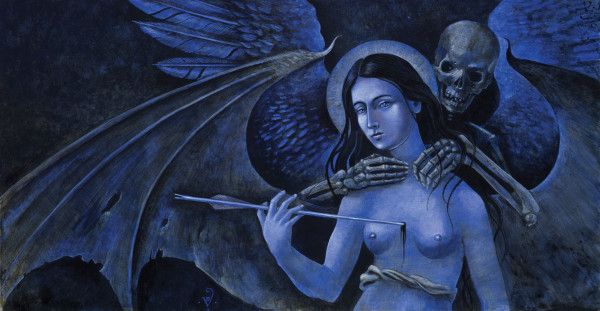 Formed in 2002, Aosoth launched themselves down an intellectual path blazed by the Order of Nine Angles, a theological Satanist outfit whose ideology differs greatly from the usual atheistic, materialist Satanism of modern "black metal." This would become significant as the band evolved musically to match their inclinations in aesthetic and ideal.
Early Aosoth releases fit within the run-of-the-mill French black metal style with more aggression and yet control than most bands of that type were demonstrating at the time. As the band incubated their sound changes came, and each release improved upon prior works while also reaching for a style more likely to be unique to Aosoth.
IV: An Arrow in Heart meshes textures the way a painter mixes paint and applies to canvas. Most songs are in a somewhat standard format with riffs recycled often. Though the pitfalls of being monotonous from repetitive riffing are present in this release, Aosoth keep it interesting by having well-thought-out structures and progressions. Occasional ambiance meshes with the bleak and desolate droning riffs to provide an atmosphere of distress.
As black metal has found itself in a position of being separated from its origins without having discovered a path to the future, releases like IV: An Arrow in Heart site astride two very different standards, loyalty to form and need to innovate. While none will argue that Aosoth has left black metal behind like the post-metal et-al crowd, it is clear that this band has found a way to innovate within a faithful tribute to the past, and the result has given the band the voice it had desperately needed.
http://www.youtube.com/watch?v=Pqq-YKI5dlU
Tags: aosoth, Black Metal, france