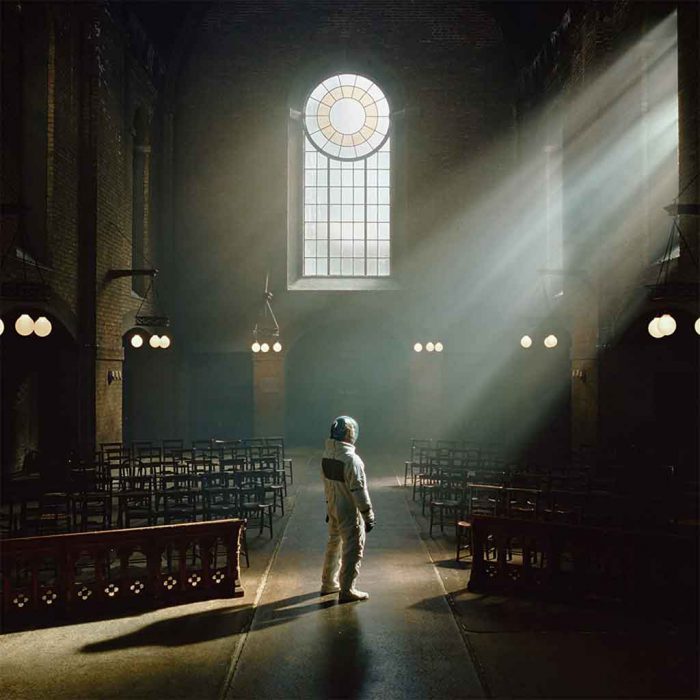 On this site, we have always used the term "metalcore" to apply to any rock, metal, and punk hybrid, since they all converge on what they have in common, which is rock. Currently Architects are widely praised by the media, which makes sense because this empty gesture of an album is Clown World fodder.
You can tell quickly why industry loved emo and metalcore: they represent a continuation of the spectrum from pop country to lounge blues and suburban jazz which emphasizes the human vocal over a backdrop of a catchy rhythm and a nominal, relatively random guitar accompaniment.
When you make music about the singing, as Motown found out, just about anyone will produce it, and you can trim out the extraneous bits in the studio, use some digital polish, and make a hit out of whatever raw material wanders your way.
Architects sing their way through this one like a gospel album or Beyonce track, then add churning MTV metal riffs and late hardcore breakdowns, but the essence of this album is the same boring normie rock that drove people to metal in the first place.
At this point in time, we can simply admit that metal became assimilated and is now another flavor of rock, something that it resisted until it encountered a generation so socially controlled that it would do anything to make even its edgy rebellion acceptable to its Boomer grandparents.
Albums like this show us music that is an aggregate, or compilation of everything that sold, rather than an idea, which means a notion questing for expression based on its own value to the process of existence. Metalcore and hipsters are associated because they are leftovers, not innovation.
Remember this glorious takedown of hipster anti-culture:
Ever since the Allies bombed the Axis into submission, Western civilization has had a succession of counter-culture movements that have energetically challenged the status quo. Each successive decade of the post-war era has seen it smash social standards, riot and fight to revolutionize every aspect of music, art, government and civil society.

But after punk was plasticized and hip hop lost its impetus for social change, all of the formerly dominant streams of "counter-culture" have merged together. Now, one mutating, trans-Atlantic melting pot of styles, tastes and behavior has come to define the generally indefinable idea of the "Hipster."

An artificial appropriation of different styles from different eras, the hipster represents the end of Western civilization – a culture lost in the superficiality of its past and unable to create any new meaning. Not only is it unsustainable, it is suicidal. While previous youth movements have challenged the dysfunction and decadence of their elders, today we have the "hipster" – a youth subculture that mirrors the doomed shallowness of mainstream society.
The doomed shallowness of mainstream society invades through cynical artists and producers who take bog-standard radio rock, deck it out with a dozen meaningless sub-genres, add some metal riffs in a hardcore context (i.e. no phrasal/narrative use) and then present it to us as something "new" when it is the exact opposite.
Ironically, the same oil-on-water effect that blighted both progressive death metal and nü-metal strikes this album: the metal riffs drive the vocals into the background, so the song has to break into a jazzy, funky, folksy, or pop part in order to have "contrast."
Empty as an hour of television commercials but as pretentious as a year of New York Times climate editorials, For Those Who Wish To Exist is peak Clown World: seemingly a big concept and ambitious theory, but at its heart, the same old product, just marked up for novelty.
Tags: architects, metalcore