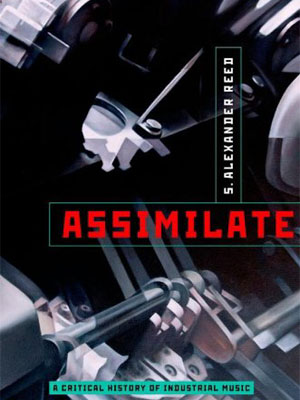 Billing itself as "the first serious study published on industrial music," a new book entitled Assimilate: A Critical History of Industrial Music has gone to press in an attempt to uncover this cryptic genre that has directly contributed to much of heavy metal's approach to both percussion and topic matter.
Finding it difficult to unite a genre that stretches from Einstürzende Neubauten, Throbbing Gristle, and Skinny Puppy to Ministry, VNV Nation and Godflesh, author S. Alexander Reed explores a "network of ideologies" which are traced through industrial music's attitudes and practices. In particular, he analyzes its troubling side, such as its "ambiguous relationship with symbols of totalitarianism and evil." Like metal, industrial plays with the dark side, and this book attempts to uncover the relationship between that dark side and positive attributes found in the music.
Citing thinkers like "Antonin Artaud, William S. Burroughs, and Guy Debord," the author creates a hybrid between a history and an explanation of industrial music, presenting a viewpoint that will probably not make it onto the evening news, but might stimulate the curiosity of those who like extreme music and appreciate its relevance in darkening days.
The book is available for pre-order on its Amazon page.
Tags: Industrial