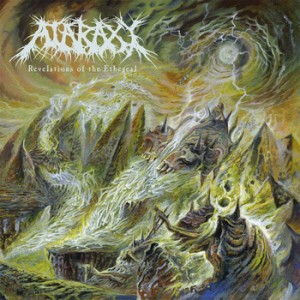 There is a way that quality music weaves its riffs and motifs to derive something substantial – almost more than just being audio. The lesser men would be satisfied by pop or some trend that'll always be surpassed by another trend, but those with taste always look for the most compelling of journeys. One could hope to journey outside his comfort zone for an experience unlike any other. Perhaps it'd to be to go down such a hellish level and then be picked up again as a riff or storytelling changes. What if it never picks you up? What if it's continuously challenging? What if it defies that which makes us human and throws our psyches into the unpleasant, but does it in such a way that it feels rewarding? That's what I look for in music. I look for something that ignites the torch of uncertainty and makes it certain.
Ataraxy are very proficient musicians that market their music as old school death metal. It holds up to most of those standards, but their formulaic style will make it rather mundane and overlooked. One of the best qualities of this album is that each riff flows into the next almost perfectly; almost as classical music does, but I feel as if I'm wanting something more challenging — something to set it aside from other bands that mimic their influences. Revelations of the Ethereal isn't anything that hasn't already been done, but when Ataraxy molds a riff to extend into the next they do it at a very high level proficiency.
The vocals are directly derived from Asphyx. The drum patterns are predictable but solid. The backing keyboards insinuate the mood, but only act as a supporting instrument that could've given Revelations of the Ethereal a much needed additional element that would've set this aside from Asphyx and their other influences. To keep it short: this album doesn't delve much further than the surface level and leaves the listener wanting something more than well-executed generic death metal.
The best parts of this album are great, but the great moments are lost in the formulas that Ataraxy constantly utilizes. Overall, the first listen was very entertaining, but there was no replay level to it because it never bestowed a challenge. It was predictable to the point of being monotonous. The slow to mid-tempos are over-utilized, but well-played. This band could stem to be something great if they focused beyond than their influences. Overall, I'd recommend it for one listen.
That which makes us human is the most of inhuman qualities… It's that which takes us beyond the tried and true and brings us to a new standard.