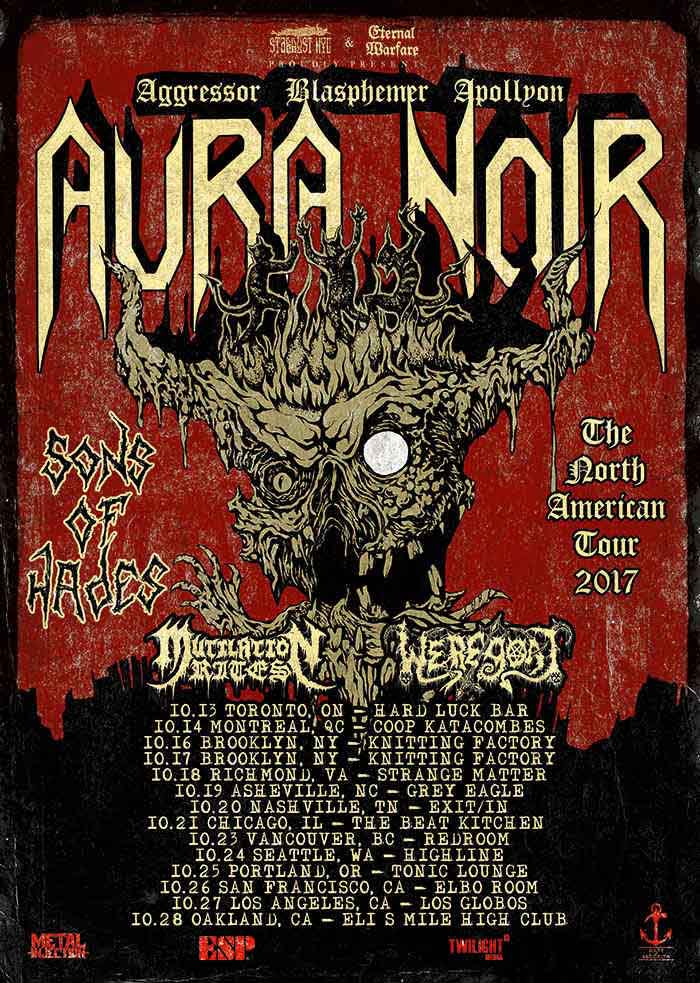 Norwegian speed metal band Aura Noir is touring the United States and Canada with their original lineup for the first time ever.
Expect the band and almost all of their fans to be drunk for Aura Noir are beer metal. Hessians should expect nothing less from such a funderground band. The tour is sponsored by poseur Blast Beat Network website Metal Injection too so it would be best to avoid it.
This month, the classic lineup of legendary blackthrashers Aura Noir – Aggressor, Blasphemer, and Apollyon – will be touring North America for the first time ever. Presented by Stardust NYC and Eternal Warfare Records, the "Sons of Hades" tour will span 14 exclusive dates across the United States. Over two decades in the making, Aura Noir will perform an extended set each night, spanning their entire career. Confirmed dates and venues, as well as additional event info, are as follows:

10.13 Toronto, CA @ Hard Luck Bar
AURA NOIR, Blood Of Christ, Astaroth Incarnate
https://www.facebook.com/events/143934256193346/

10.14 Montreal, CA @ Coop Katacombes
AURA NOIR, Riotor, Outre Tombe & Warslaves
https://www.facebook.com/events/111907299508111/

10.16 Brooklyn, NY @ Knitting Factory
AURA NOIR, Mutilation Rites, Meek Is Murder, Skullshitter
https://www.facebook.com/events/625507261062399/

10.17 Brooklyn, NY @ Knitting Factory
AURA NOIR, Trenchgrinder, Couch Slut, Funeral Leech
https://www.facebook.com/events/625507261062399/

10.18 | Richmond, VA @ Strange Matter
AURA NOIR, Mutilation Rites, Battlemaster & Bewitcher
https://www.facebook.com/events/1300789583368038

10.19 | Asheville, NC @ The Grey Eagle
AURA NOIR, Mutilation Rites, Shadow Of The Destroyer, Black Mountain Hunger
https://www.facebook.com/events/1576890949011169

10.20 Nashville, TN @ Exit/In
AURA NOIR, Mutilation Rites, Loss, Vile Desecration
https://www.facebook.com/events/124725254796531/

10.21 Chicago, IL @ Beat Kitchen
AURA NOIR, Merciless, Usurper, Ares Kingdom, Mutilation Rites, Nefarious
https://www.facebook.com/events/434801286913075/

10.23 Vancouver, BC @ Red Room Ultra Bar
AURA NOIR, Weregoat, Reversed
https://www.facebook.com/events/137899800121267/

10.24 Seattle, IL @ Highline Bar
AURA NOIR, Weregoat + TBA
https://www.facebook.com/events/1887236421292017/

10.25 Portland, OR @ Tonic Lounge
AURA NOIR, Weregoat, Iron Scepter
https://www.facebook.com/events/1768976946696168/

10.26 San Francisco, CA @ Elbo Room
AURA NOIR, Weregoat, Dispirit, Black Fucking Cancer
https://www.facebook.com/events/461318824229042/

10.27 Los Angeles, CA @ Los Globos
AURA NOIR, Weregoat, Black Fucking Cancer, Gravehill, Unholy Lust, Disannulleth
https://www.facebook.com/events/126176254636876/

10.28 Oakland, CA @ Eli's Mile Hile Club
AURA NOIR, Weregoat, Pale Chalice, Void Omnia
https://www.facebook.com/events/471336466592075/

Aura Noir formed in Oslo, Norway in 1995 as a result of Aggressor and Apollyon's frustration with the metal underground's trends and fads – the increasing overuse of keyboards and polished production, etc. Black metal bands were turning into symphonic trite and thrash metal as such had been left for death (sic) in the late '80s.

They saw a gap that needed to be filled with something real, something metal. They intended to create a band that combined influences of '80s luminaries such as Sodom, Celtic Frost, Venom, Voivod, Dark Angel, etc. Thus, black thrash metal was born. Alongside contemporary acts such as Gehennah, Inferno, and Nocturnal Breed, Aura Noir found themselves at the forefront of a new wave of underground metal, returning to – and celebrating – the '80s school of evil, dirty thrash metal.

Dreams Like Deserts was released later that same year, and this mini-album featured Aggressor and Apollyon switching drums and guitar/bass/vocal duties between them on every other track. This was to become a tradition for the band, both live and on record. The black-and-white sleeve depicting Apollyon and Aggressor at a local graveyard, wielding beer bottles and sporting the middle finger, completed the old-school feel.

Black Thrash Attack, their debut full-length, followed a year later, and a more apt title has hardly graced an album. Blasphemer (ex-Mayhem) rounded out the lineup on guitars, and the trio seamlessly combined their obvious '80s' inspirations with their undeniable songwriting knack. Black Thrash Attack is still revered by many fans as the ultimate Aura Noir album.

On the 1998 follow-up Deep Tracts of Hell, the band broadened their horizons, adding new filthy elements to their sound and going for a rawer approach, resulting in one of the ugliest and most volatile albums ever. It was also written and recorded solely by Apollyon and Aggressor, with Blasphemer concentrating on Mayhem at the time.

It would take six years until The Merciless, arrived and with a dry, in-your-face production and clocking in at less than 26 minutes, it was Aura Noir distilled and refined to the bone. The album was hailed by fans and press alike, and half of the songs on that album are with them in their live set today.

In 2008, Aura Noir released their fourth effort, Hades Rise, with Blasphemer and Danny Coralles of Autopsy contributing on lead guitars. Following Aggressor's 2005 accident, rendering him unable to play drums, it was the first album to feature Apollyon drumming on all songs. With their most diverse material yet and a dirty, organic sound – not to mention the most absurd endorsement list ever – it was an immediate underground hit and a critics favorite that year.

2012 saw the release of the fifth Aura Noir album, Out to Die, their first album with Indie Recordings, with Blasphemer permanently back in the fold and several tours in Europe, North and South America under their belt since 2008's Hades Rise. It was bound to cement the band's reputation as a blackthrash attack more ugly, brutal, and merciless than ever.

2017 will mark the release of Aura Noir's seventh album. Already completed, with this monster, the hellish trio will once again step up and deliver the ultimate and unexpected: a sordid mass of crazed inspiration and dedication, a true return to form.
Tags: aura noir, beer metal, blast beat network, funderground, metal injection, news, Speed Metal, tour dates, upcoming tour, US tour