The twee indie hipster ironists at A.V. Club put out their list of the 100 metal albums of the decade, forgetting of course that what we, the listeners, need is"quality over quantity." We don't have endless time, money, or even bandwidth to explore all the goofy stuff that seems nuanced and interesting to a reviewer who will listen to it twice in his lifetime, once to write the review and once before he shuffles that promo CD on to Half Price.
This list is not going to make me friends at big labels who want you to pick up the latest dreck by some indie rock band that started playing metal ironically. It won't win you scene points with the kvlt and trve. It will surely not impress your friends with how open-minded, cool and different you are. What it will do is re-awaken your interest in some of the best metal made during this decade, even if it was so good there was no need to make drama about it, and so it slipped under our radar as the years went by.
Demoncy – Joined in Darkness (1999, Baphomet)
When black metal had just discovered keyboards and carnival music, this lo-fi roar straight out of hell cut through the fat and pared our ears to the bone. Sounding like Incantation and Havohej, its primitive riffs in archly elegant songs retain their power a decade later.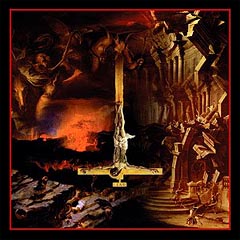 Profanatica – Profanatitas de Domonatia (2007, Hell's Headbangers)
For a return later in their career, Profanatica took the primal riffing of their earlier albums and worked it into longer melodies like a Swedish death metal band, creating an enduring mood of occult darkness.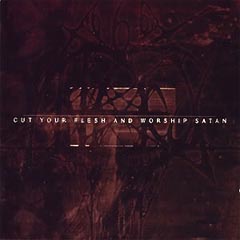 Antaeus – Cut Your Flesh and Worship Satan (2000, Baphomet)
This album sounds like battle, with clipped rhythms and clashing riffs, but out of that emerges a sublime sense of melody in one of the last albums to really uphold the old school of early 1990s black metal.
At War With Self – Torn Between Dimensions (2005, Free Electric Sound)
Most technical metal is an oil-and-water separation, but At War With Self find a voice that smoothly wraps a progressive/jazz jam session around metal riffs and emotions.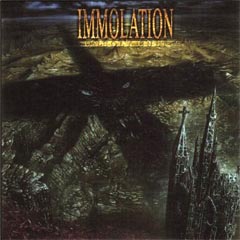 Immolation – Unholy Cult (2002, Olympic)
Immolation achieve a rarity: technical death metal that doesn't aim for highbrow technique, but a solid slamming songwriting technique that never leaves you in confusion, and on this album, the guitar fireworks match the fire of the stories told by these vivid, evocative songs.
Beherit – Engram (2009, Spinefarm)
As if attempting to sum up the past twenty years of black metal, Beherit makes an album in the style of early Bathory but updates it with quirk and insight, etching a complex sigil that requires repeated listening to decode.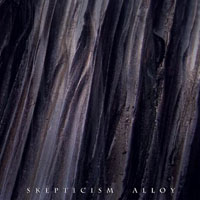 Skepticism – Alloy (2008, Red Stream)
Funeral doom hangs drooping waves of distorted noise upon mortuary keyboards, dragging us through a dirge of misery, but Skepticism make it sound like an interesting mindset we could explore and even enjoy.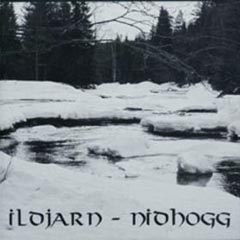 Ildjarn-Nidhogg – Ildjarn-Nidhogg (2003, Northern Heritage)
Ildjarn, with its minimalistic riffs and incessant high-speed drumming, is a band that people either love or hate based on how it sounds, but hidden in all that noise are transcendent short compositions that stroke the inner brain.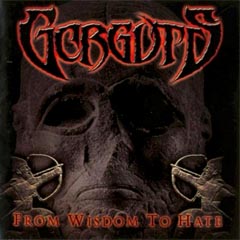 Gorguts – From Wisdom To Hate (Olympic, 2001)
Gorguts takes their subtly melodic brutal death metal and pulls it inside out to make mechanistic, complex song constructions that followed classical patterns and used multiple themes.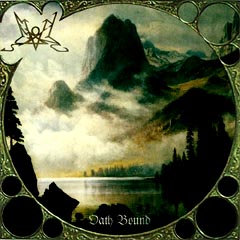 Summoning – Oath Bound (2006, Napalm)
To bring the sound of ancient Hobbit-infused landscapes into black metal, Summoning slowed it down but played at higher registers and faster than doom bands, interweaving keyboards and longer guitar riffs to create an ambient metal sound.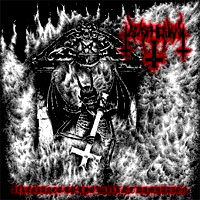 Blaspherian – Allegiance To The Will Of Damnation (2007, Blood Harvest)
Blaspherian prove underground old school death metal is not dead with this music in the style of 1991, but with the wisdom of years of atmospheric metal channeled into these riffs that resemble a subconscious thought with their eerily familiar rhythms and shapes.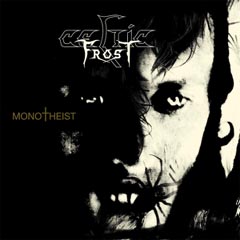 Celtic Frost – Monotheist (2006, Century Media)
Returning from a recent history of false starts, Celtic Frost get back to their 1987 sensibility and modernize it, mixing industrial, gothic, speed metal and morbid death metal into an energetic but necrotic album.
Graveland – Memory and Destiny (2002, No Colours)
To be epic, black metal needs to transport us from The Now to the vast and lawless past, a frontier that Graveland opens wide with their martial, Conan-influenced black metal.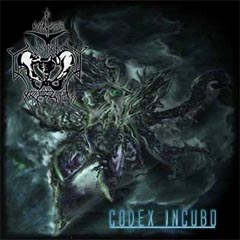 Cosmic Atrophy – Codex Incubo (2008, Metalbolic)
Just as metal gets codified, Cosmic Atrophy return to put the weird back into metal with a unique voice inspired by Demilich, Timeghoul, Voivod and all other metal bands from the other side.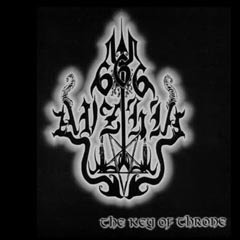 Avzhia – The Key of Throne (2004, Old War)
Melding flowing black metal with militant fast drums, Avzhia take over where Emperor left off and throw in the new world sense of urgency and gritty, nihilistic, feral and crafty battle.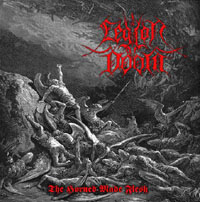 Legion Of Doom – The Horned Made Flesh (2008, Zyklon-B)
Like the roar of a hunting lion, this album makes destructive sound into a signal to attack, joining raw black metal riffs and melodic keyboards for a dreamlike listening experience.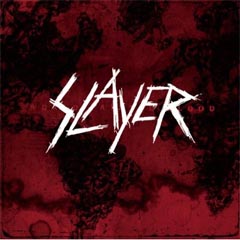 Slayer – World Painted Blood (2009, American)
After long years of not having an artistic voice, and trying everyone else's vision by their own, Slayer drop most of the "modern metal" influences and pick up where 1992 left off, in simpler songs that use rock-style pocket rhythm but keep the classic acerbic Slayer riffs.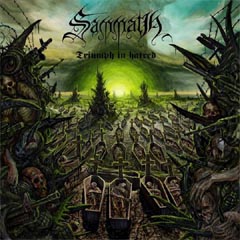 Sammath – Triumph in Hatred (2009, Folter)
You might think black metal died and got so mixed with other styles it had no voice, but Sammath have mixed death metal technique carefully into their black metal songs, making a testimony toward aggression that sounds like Zyklon-B merged with Angelcorpse.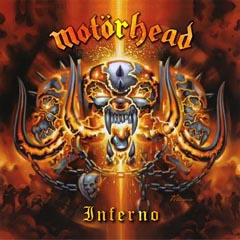 Motorhead – Inferno (2004, Sanctuary)
Motorhead have made a career of not changing their basic approach, and "Inferno" is no exception, fitting on the shelf next to the others but also being tighter, faster and darker than most of them.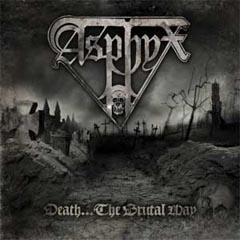 Asphyx – Death… The Brutal Way (2009, Ibex Throne)
Performing the rare trick of coming back 20 years later with an album as good and un-diluted as their first, Asphyx bring you heavy basic riffs and lots of repetition, but song structures that emphasize the profundity of contrast and give these songs spacious atmosphere.
See a more detailed version of this list: