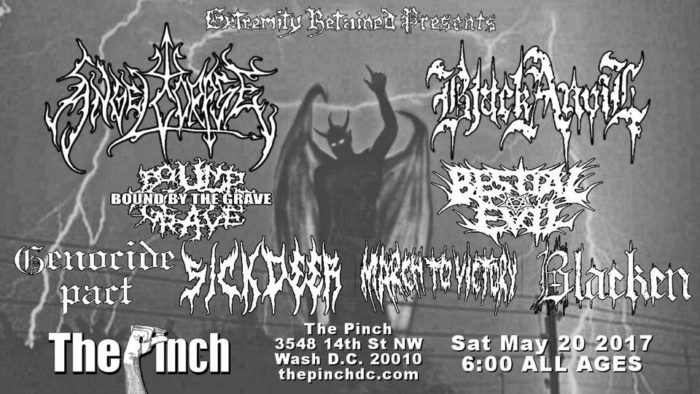 Social justice warrior deathcore band Bestial Evil are one of the seven openers for Angelcorpse at a pay to play show in Washington, DC tonight. Yes this is the same Bestial Evil you think it is, the antifascist and antiracist and probably Black Lives Matter supporting deathcore band whose antics and temper tantrums have been covered on Death Metal Underground Past. This time Bestial Evil, despite their antifascist stance, are opening for Angelcorpse. The bassist and vocalist of Angelcorpse is none other than Order From Chaos front man, existential social Darwinist and author of The Conqueror Manifesto Pete Helmkamp.
This show was organized by infamous pay to play promoter Zachary Ohler's Extremity Retained Booking. Ohler typically buys tour packages and books an obscene amount of local bands to sell tickets. Shawn Wright and friends willingly paid a greedy promoter to open for Pete Helmkamp. Shawn Wright is yet again proven a hypocrite. Social justice warriors do not have a messiah complex, rather they are just attention whores like Bestial Evil. Bestial Evil do not want to actually play death metal and write worthwhile music; Bestial Evil just want to be famous scenesters so they play deathcore for the pink-haired trans beardos to mosh to on weekends. They attempting to scapegoat metal bands, metal fans, and metal distributors to explain to themselves why they are not a popular metal band rather than accepting the truth that they do not play metal, are incompetent songwriters, and just plain old annoying.
This is little different from minorities trying to push aside incompetency and personal shortcomings by playing the race card. Cuckholded western liberal democracies and publicly traded companies are too afraid of leftist media outcry to call bullshit, unlike organic social entities such as people who actually like black and death metal.  Death and black metal fans call loser metalcore bands like Bestial Evil and fake "metal" journalists like Kim Kelly what they really are: glam and indie rock crybabies popular only with pudgy losers with facial piercings that render them unemployable everywhere except tattoo parlors and uncontacted Amazonian tribes.
Here are some choice excerpts from Helmkamp's interview in the Finnish Isten zine from his time in Order From Chaos:
Tags: angelcorpse, antifa, antifascists, attention whore, bestial evil, bestial evil (US), bestial evil (usa), deathcore, isten, metalgate, order from chaos, pete helmkamp, scenesters, shawn wright, sjws, social justice warriors, washington dc, zachary ohler