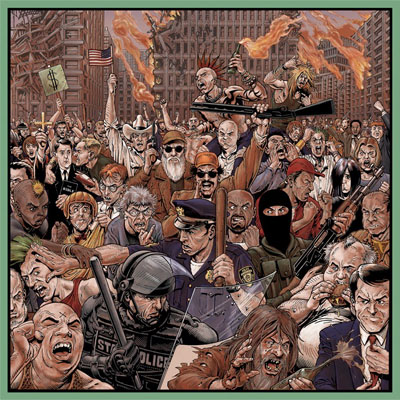 Dark Descent Records has formed a new sub-label called Unspeakable Axe Records which will release thrash band Birth A.D.'s first full-length, I Blame You.
Birth A.D. formed in 2008 and released their first EP named Stillbirth of a Nation in 2009, creating their music in a continuation of the original 1980s thrash style pioneered by DRI, COC, DBC, Cryptic Slaughter, MDC and Fearless Iranians From Hell.
Produced by legendary thrash-era knob-twister Alex Perialas, I Blame You shows the band at their most vitriolic and powerful. The band has this to say: "Joining forces with Unspeakable Axe and Dark Descent proved to be the best choice for Birth A.D., as they are about the bands, the music, and doing things the old way (that is, the right way). We plan to cause even more problems with their support!"
I Blame You is scheduled to be released late spring/early summer 2013.
Evil Army/Birth AD live dates, 2013:
Thursday, April 4 – O'Briens Pub, Allston, NY
Friday, April 5 – The Acheron, Brooklyn, NY
Saturday, April 6 – Kung Fu Necktie, Philadelphia, PA
Sunday, April 7 – The Sidebar, Baltimore, MD
For more information, check out the Birth A.D. website and Facebook page.
Tags: birth a.d., Thrash