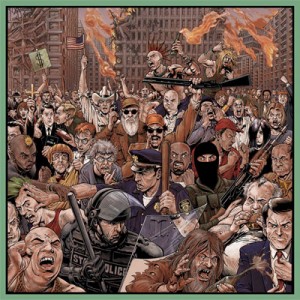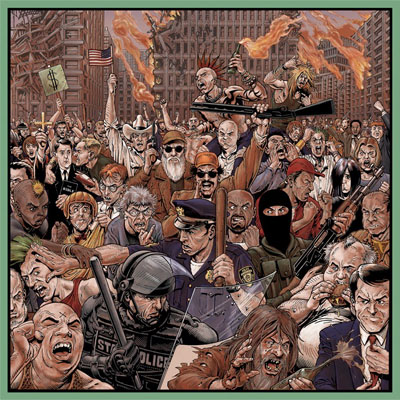 Back in the 1980s thrasher music — a hybrid of punk and metal listened to by skateboarders — was big. In the 2000s, Birth A.D. has resurrected this style not through retro-nostalgia but by picking it up where it left off and taking it further.
Thrash grew up from simple short and fast punk songs with metal riffs and reached its peak with S.O.D.'s Speak English or Die and D.R.I.'s Crossover. These albums packed the intensity of the blur-speed earlier work into lengthier songs with more emotional depth and variation. Birth A.D. picked up from that point with their first EP, Stillbirth of a Nation, which kept the chunky riffing but added melodic vocals and song structures customized to the topic of each song.
Returning with wisdom and more vitriol, I Blame You shows Birth A.D. reforming their style. The album comprises songs from Stillbirth of a Nation matched to new material which is tighter, faster and harder-hitting. It hits both with ripping riffs and militant time changes, but also with a greater internal contrast between themes which gives these songs a greater poetic intensity.
Lyrically, Birth A.D. emerges straight from the thrash tradition, which is to criticize our society as having made a wrong turn somewhere and now heading for doom. The lyrics defy categorization unless you imagine a systems architect looking at modern society as a whole and suggesting changes that management has overlooked for its own reasons. Of note is "Popular War" which criticizes the tendency of people to really enjoy killing other people when it's easy, fail-safe and creates a good opportunity for business.
The original thrash movement burned out because it burned too bright. It had a lot to say, but instead of drawing it out into long dramatic pieces, it blasted us with rapid-fire alienation. Easily understood, it was rarely understood, because it was too radical. Birth A.D. bring this idea back not by imitating it, but by upholding its spirit, which makes for an exhilarating and violent listening experience.
Tags: birth a.d., crossover thrash, Thrash