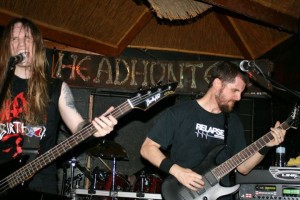 Texas crossover thrash unit BIRTH A.D. is looking for a permanent guitarist in the Austin/Central Texas area. They are currently signed to Unspeakable Axe Records and distributed by Dark Descent Records in the Americas, along with European label support through Metal Age Productions. Vocalist/guitarist Jeff Tandy released the following statement about the search:
"All viable players will be considered. If you can play anything and everything onSpeak English or Die, you are welcome! Classic-era Slayer worship is also a plus. Contact the band at birthad@gmail.com. Join us in the war on morons!"
BIRTH A.D. released I Blame You in March 2013 on Unspeakable Axe Records. Purchase and/or stream the album  Here.
Tags: 2015, birth a.d., dark descent, guitarist, i blame you, Thrash, unspeakable records