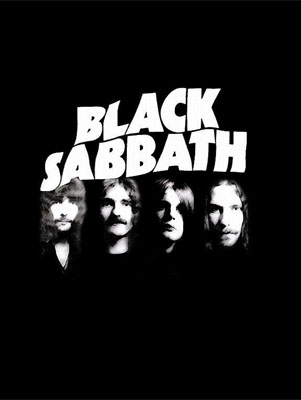 Seminal heavy metal band Black Sabbath has released the first single from their upcoming album, 13. Entitled "God Is Dead?", it features 3/4 of the iconic Sabbath lineup.
While still possessing the distinctive Sabbath sound, it is clear that this is a song produced in the commercial hard rock vein, rather than a unique artistic statement as was their original work.
Even done relatively well, it's not the Sabbath of lore and must be viewed in a different light than the original era. Forty-three years after the band's debut, it is not unexpected that they might alter their sound somewhat.
Releasing their debut self-titled album in 1970, Black Sabbath were the first "proto-metal" band in that they used the movable form of the power chord to make riffs that slid down the fretboard and thus encouraged songwriting with longer phrases, more atmosphere and a more flexible rhythmic attack than the rock music of the day. Distinguishing themselves with a number of chart-toppers as well as an audience who craved more, Black Sabbath kicked off the metal genre which quickly differentiated itself from rock and became a subcultural movement in its own right.
13 is due to be released on June 11 and the band will be reaching North America later in the year. Initial tour dates have been announced as follows:
8/4 — Holmdel, N.J. — PNC Bank Arts Center
8/14 — Toronto, Ontario — Air Canada Centre
8/24 — Seattle, Wash. — Gorge Amphitheatre
9/3 — Los Angeles, Calif. — Los Angeles Sports Arena
Tags: black sabbath, Heavy Metal