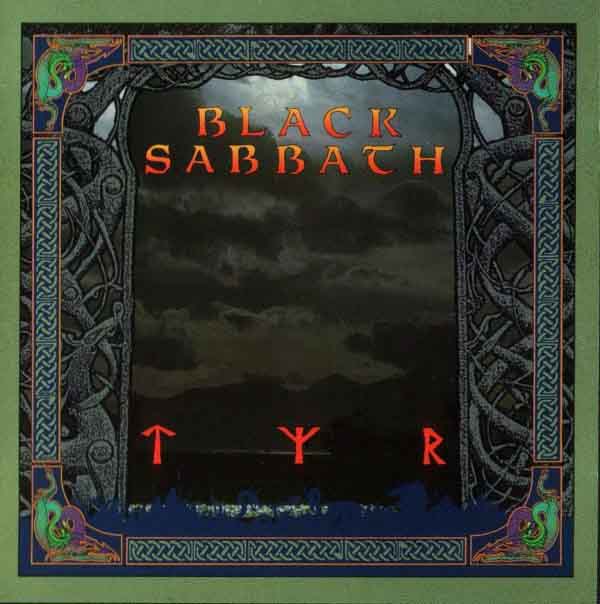 If I ever have to declare a field of study — and I hope I never must — I will declare my intention to study transitional material. It is the most fascinating by far, and Black Sabbath Tyr demonstrates why.
Emerging in the final days of the 1980s and the first days of the new decade, Tyr shows Black Sabbath trying to keep one foot in what succeeded in the previous era while gesturing at inventing the next. The band is not bold enough to simply invent it, since they are too invested in being an industry in themselves. That puts them in the position of defending what they have by incorporating the current, not by redefining it and trying to become something new.
The 80s influences are most painful in the vocals, which bring back flashbacks to Miami Vice and War Games. The 1980s were above all a sentimental time: the late 60s had changed the nation, and now we were in the grips of a Cold War that threatened to eliminate us all in the absolute erasure of kill zone radius extermination. People sought emotion, a fleeting sense of beauty and hope in the night, before the coming darkness swallowed all. It was really a prolonged version of what Berlin must have been like in 1945, but no one could recognize it. They buried themselves in things: in work, in religion, in warfare or in ideology. And so the 1980s sound is that of the lover glimpsed on a passing train, a moment of hope in the doom, a taste of what could have been, drowned out in mechanical rumblings and coalescent submerging blackness.
While the elements of the proto-metal/prog fusion that Black Sabbath pioneered by adopting the longer phrase moveable melodies of modernist classical influenced Italian horror movie soundtracks are still present, the majority of the riffing on this album resembles 1970s hard rock emulating the electronic rhythms of 1980s pop. It's not surprising that Ministry may have borrowed a few rhythm/riff-idea combinations from this album, given the raw creativity put into them and their mutual inspiration in the basis of 1980s "industrial" music through electronic body music (EBM). Black Sabbath balance the shorter, more mechanical hard rock riffs with their usual spanning chord progressions that give the sense of the camera pulling back to reveal a vista.
The result is highly melodic and merges with the vocals which sound like they're right off a Mike & The Mechanics or Red7 record. The result neuters Sabbath to an uncomfortable degree because the focus is on vocals and synths and the guitar takes a rhythm role that supports those from the background. That has not stopped guitarist Tony Iommi from coming up with some rather odd and noisy variations on the riff that he uses to add uncertainty and a sense of being lost in a windswept plain to the otherwise more straightforward compositions.
Where Black Sabbath reach toward the future is in the layout of these songs and album. They are deliberately expanded structures with more variation between them, like scenes in a movie or different rooms in a house in a pursuit dream. This both reflects the influence of MTV and the increasingly technological nature of music which allowed radical changes in instrumentation, thus musicians could stick in entirely radical dynamic changes and have them work as more than a distraction. The album follows the same thought process, beginning with an acoustic introduction with semi-chanted vocals, as if invoking the Druids and giving the entire production a visual leadoff. The album itself moves like a conversation, starting with its most obvious big points and indulging in all the conventions of its decade, but then gradually bringing those back to roots and then expanding them with the final tracks, notably "Heaven in Black," where hints of a more metal-oriented Sabbath emerge (especially in its recapitulation of the riff-idea for "Symptom of the Universe," which as my colleague Martin Jacobsen writes, precapitulates the muted-strum technique used by all speed metal bands). Much of this anticipates the more epic conceptual and structural layout of both songs and albums that black metal and death metal would popularize; it is unclear whether Black Sabbath heard early prototypes of this notion, such as Bathory Blood Fire Death, but the similarities are great as they are to later Judas Priest like Sin After Sin and Iron Maiden's epic 1980s material such as Seventh Son of a Seventh Son. Interesting also is the choice of Odinist thematic matter wrapped in Celtic imagery, as if questing for a new identity for metal that united its past with future.
Tyr shows Black Sabbath twenty years into their career. They are less innovators than standard-bearers and so their tendency is to absorb outside influences and translate them into heavy metal to give their genre relevance in the wider world. There are also other influences from within the metal world, such as a notable increase in Iron Maiden-styled galloping riffs and broader themes. As one reviewer once said, some albums are more interesting than good for listening to, and thus are more compelling to write about; Tyr may be too 1980s for me to listen to again, and I remember chucking it across the resale counter at a used CD shop over a decade ago for that reason. However, it shows us a nodal point for heavy metal in its evolution and anticipation of the next era.
http://www.youtube.com/watch?v=O0eOblstpng
Tags: black sabbath, hard rock, Heavy Metal