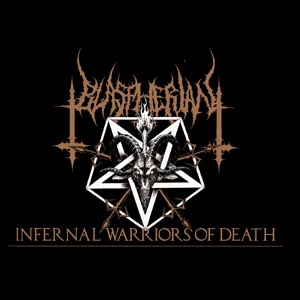 There's absolutely nothing wrong with the regular edition of this album, either aesthetically or technically. Deathgasm Records did an excellent job. But along came Die Todesrune/Deathrune/Death To Mankind Records with a limited edition, "300 copies," art direction inspired version of this new classic, so who are we to say no?
Both cover and booklet are stunning in their integration of old school death metal art conventions, and newer stylings that simply look good and portray this album in the best possible light. The digipack — normally I dislike these fragile things — is as well put-together as you'll find in this format, and its elegant matte surface conveys a richness of color impossible on slicker releases. The result is a whole package: music, idea, image and persona.
If you haven't heard this might slab of putrescent occult death metal, it's like old Incantation executed by Deicide at the pace of Obituary. The result is a brooding, expansive and otherworldly catacomb of doubt, violence and despair that is alluring in its promise of a world more interesting than our current utilitarian/moralist one. For those who love death metal, or just intense music that is not pure uptempo distraction, Infernal Warriors of Death delivers a crushing blow.
01. The Disgrace of God
02. Desecration Eternal
03. Sworn to Death and Evil
04. Lies of the Cross
06. In the Shadow of His Blasphemous Glory
07. Invoking Abomination
08. Exalted in Unspeakable Evil
Deathrune has also released a regular CD edition in Europe, and by the end of the August will release a gatefold vinyl edition as well. You now have no excuses not to own this crushing release if you want it.