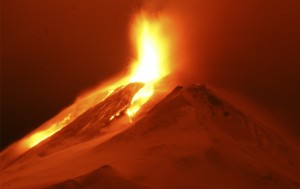 For those that are unaware of the Toba catastrophe theory – it's based on a supervolcanic event in present-day Indonesia that changed the world. Around 75,000 years ago one volcanic eruption bottle-necked the human species and put the Earth into a decade-long volcanic winter. The human species was rendered to less than 10,000 breeding pairs and the planet was cooled. These volcanic events are nature's way of bringing a balance back to the planet; something that modern civilization doesn't pay any heed to because most people pigeonhole themselves in mundane routines.
How do volcanoes transpose to metal? Well aside from their "bad" nature, the Earth reclaims its shell by cutting out the fat on its crust. This is something that needs to happen in the metal community.
How often do you find yourself at a show and every band on the bill are generic rehashes of the past or common variations of pop formulas? The scene is infested with hundreds and hundreds of boredom inducing clones that mimic their favorite bands – not extending upon the concepts that were previously founded. They are imitations. The prolegomenon of mediocre bands doesn't leave much room for more quality music to thrive. Perhaps a metaphorical influx of lava and ash clouds would keep the weak at bay and let true metal flourish.
Tags: volcanoes