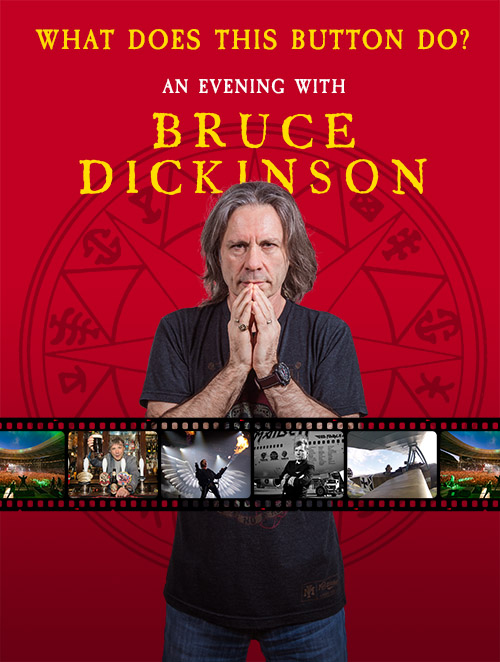 Iron Maiden frontman Bruce Dickinson has embarked since October 2018 on a spoken-word tour in support of his memoir What does this button do? When in Norway, the legendary singer didn't miss the chance to throw an acapella version of Revelations.
We can hope that more dates are to be announced on his website below:
A true renaissance man, Bruce Dickinson has made movies, written books, toured the world, made great music and triumphed over everything while giving all of his blood and sweat on the stage. An artist who became huge with almost none airplay, only through effort and exhausting tours, often to destinations deemed dangerous by most artists.
From the above clip we can see that his voice is still in top shape. He might be missing some of his range and sharpness of its high ends, yet his lows have grown deeper, more emotional and powerful. Truly, his voice has matured like old wine.
The fact that he has been singing lyrics influenced by William Blake and Aleister Crowley is only a small tribute to metal's roots in romantic-esoteric Nietzschean mythology. His actions and adventurous life are a proof of what it means to be true.
Finally, on his website you can see a trailer for the film Scream for me Sarajevo. From the description:
During the longest siege a capital city has faced in the history of modern warfare, and amid the mortars and grenades, a heavy metal band agreed to play a concert…
Scream for Me Sarajevo is the astonishing story of the most unlikely of rock concerts, performed by Bruce Dickinson and his band Skunkworks in 1994. Risking their lives, they were smuggled into the besieged city to play a concert for its citizens amidst the chaos of war.
Now, that's metal. UP THE IRONS.

Tags: bruce dickinson, iron maiden, what does this button do?