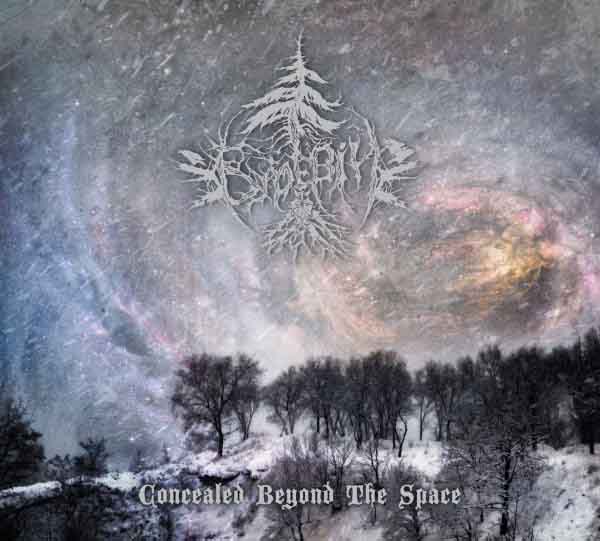 Hailing from Ukraine, Bureviy (Буревій = Hurricane) play a modern take on black metal which makes use of old school sub-styles by keeping them relatively uncontaminated but subsumed under the band's personal voice. In Concealed Beyond the Space we find the folk-oriented black metal with rock sensibilities of Nokturnal Mortum, the swaying of long melodies of Drudkh, and a collection of strumming, tremolo picking and metal riffing that meld as diverse raw material for a black metal language descended and definitely compatible with but ultimately different from the more uniform black metal of old.
This approach is somewhat of a signature among Eastern European and Québécois black metal bands. The phenomenon is interesting when found in albums that manage to channel this almost faceless style into beautiful and meaningful expression. It demands a stricter attention to musical coherence in composition as the link between musical ideas will not be found in stylistic uniformity. Bureviy even makes use of acoustic guitars to decorate or fill passages that at first may feel like misplaced filler. A closer and paradoxically more comprehensive look also shows these passages are in line with the sections they connect and are not gimmicky interludes but articulations, points of exhalation.
A single spin of this will pass unnoticed. It is like a dense temperate forest, you need to get close and see the trees, the rocks and the streams. It takes more time and familiarity with the album to experience what it is trying to transmit. Ancient Slavic nature-worship and the mystic contemplation in tune with the proud mountains, the warm hillsides and the powerful rivers is channeled through Concealed Beyond the Space.
Tags: 2015, Black Metal, Bureviy, Concealed Beyond the Space, drudkh, nokturnal mortum, Québécois, Ukraine