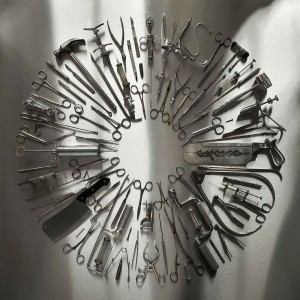 From the opening dual guitar harmonies straight out of 1985 that bring to mind the live intro to a Europe or Stryper set, it's obvious that this album will be more in line with the guitar hero pop-metal of Arch Enemy than anything from Symphonies of Sickness or Reek of Putrefaction.
To some degree, that's to be expected. Carcass threw in the towel on forward momentum long ago (1991) and have resorted to playing up their namesake for the purpose of phoning in stadium metal for the aesthetically overblown Wacken age, and Surgical Steel is perhaps their most commercially flexible attempt at filtering late model radio format speed metal through a death metal aesthetic filter, where actual death metal technique is limited to tremolo picking, blast beats, and Jeff Walkers vocals.
Carcass joining an elite cadre of financially successful bands by doing so, starting with At the Gates's Slaughter of the Soul and even Pantera's Far Beyond Driven. Let me state it again for those who wish to be millionaires: the appearance of being an outsider to a society nearly universally loathed by its inhabitants, with an underhanded delivery of comfortingly familiar derivative works that by their obedience affirm the social order, will always be a financial success. It allows the appearance of rebellion with none of the actual costs. It's like artistic insurgency tourism.
Surgical Steel ends up being a mix of Swansong's Thin Lizzy-isms applied to the framework of songs like "This Mortal Coil" and "Doctrinal Expletives." These songs have more to do with Mike Amott's recent Wacken pandering than anything on Heartwork. "A Congealed Clot of Blood" resembles a "revisited", more uptempo version of Swansong's "Don't Believe a Word" and the last song, brings to mind the best years of Sanctuary with its sentimental melodic guitar intro, or evokes the Overkill ballads "The Years of Decay" and "Soulitude" with its emotional framing and pacing.
Some tracks like "Cadaver Pouch Conveyor System" attempt aggression by utilizing the same speed metal meets extreme music technique as "Carnal Forge" from Heartwork, but with the obvious "money riff" effect of the dual harmony guitar part that is the focus of these songs. The reversion to old lyrical themes (based off the song titles and album artwork) seems like misdirected fan service as these songs would probably win over more people from the Century Media crowd if the lyrics had the same simple "emotional" topics that songs such as "No Love Lost" had.
While this album may appease the simple appetites of those who merrily purchase Arch Enemy and Children of Bodom albums, many songs try to deviate from the verse-chorus stylings with an overloaded, ill-fitting bridge that detract from their simple nature. This divided nature may keep Surgical Steel from being as successful as recent Hypocrisy or Slaughter of the Soul in the arena of stadium faux-death AOR metal for drunken Wacken attendees.
Again, we say: if your heart is no longer in death metal, don't bother. Start up a project band and transition into progressive rock, classic rock, or whatever it is that actually appeals to you. Explore your new musical pathways. It's just as much a sell-out to try to "stay true!" when you no longer care as it is to make Justin Bieber-styled pop because you know ten million teeny boppers from the 'burbs will buy it. Musicians, chase your dreams. We get the best of your talent that way, even if we have to transition genres to appreciate it.
Tags: carcass, Grindcore, hard rock, melodic metal, Surgical Steel