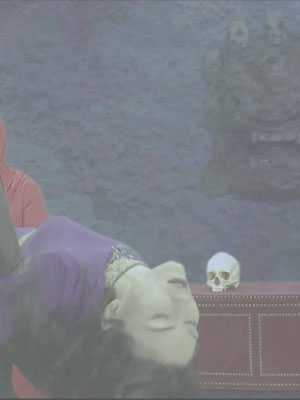 Noteworthy doom metal band Cathedral has released a new song named "Tower of Silence" from their upcoming album The Last Spire. It features a mixture of old-school heaviness and modern accessibility, wrapped in a package of skillful structure.
Vocalist and band founder Lee Dorian, who assembled Cathedral after his departure from seminal grindcore act Napalm Death, styles the new album as a return to the form that made 1991's Forest of Equilibrium so powerful.
"This is the album I've been waiting to do since the first one, it almost feels like we made our second album last in some respects," said Dorrian. "We actually recorded a lot more material but decided to sacrifice many of the tracks to make the overall album feel more complete in its nihilism. I don't like happy endings, I never have. So many good films are ruined by happy endings and I didn't want that to be the case with Cathedral, it was my dream to bring everything full circle."
Cathedral deserve their place in metal history for having essentially resurrected doom metal, a style lying dormant except for a few Black Sabbath-worship bands like Saint Vitus and Pentagram. Fresh from the chaos of Napalm Death, Dorrian reversed his deconstructionist path and instead created a somber, resonant and enduring feeling of pervasive darkness and fatalism, using death metal technique and influences from nascent drone and trance genres to create a new form of the oldest form of metal.
"Tower of Silence" shows us a band more inclined toward 1970s style relatively harmonically immobile riffs, in contrast to the phrasal and drone riffs of the 1990s, and not surprisingly, the vocal and song rhythms follow more of a hard rock pattern than the death metal styles of Forest of Equilibrium. This song has a lot more commercial appeal than anything from the early albums of this band, and so despite having a bit more "bite," probably belongs in the second era and not the first of this groundbreaking doom metal band.
The Last Spire can be purchased from Season of Mist's online shop. If the rest of Cathedral's farewell album is of the same quality as this advance vanguard track that combines the psychedelic rock and proto-metal of the 1970s into a bleak but tuneful package, it will feature on many "Best of" lists for 2013.
Tags: cathedral, Doom Metal