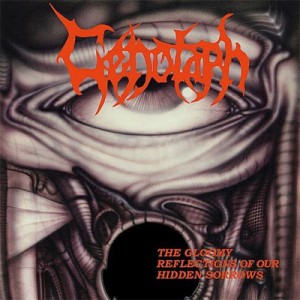 On March 11, a classic returns to print: Cenotaph's Gloomy Reflections of Our Hidden Sorrows, which was a sleeper hit back in the early 1990s when by combining crepitant American heavy death metal with esoteric hymnlike melody, Cenotaph invented a national sound for Mexican death metal and stimulated the imagination of many.
Two albums followed, both in the "At the Gates style" of melodic death metal, but fans never forgot the moody and eloquent first album from this talented band. Members later went on to The Chasm and other projects, but over time, Gloomy Reflections of Our Hidden Sorrows has remained a favorite.
Chaos Records is taking pre-orders ($10) now for the CD version of Gloomy Reflections of Our Hidden Sorrows. This version contains an eight page booklet with artwork and lyrics for all tracks, along with original artwork by the Polish artist Ryszard Wojtynski in a new layout. As bonus tracks, the CD edition contains the Tenebrous Apparitions 7″ and The Eternal Disgrace 7″. The reissue has been fully remastered by Roberto Granados at Seismic Sound Studios. Vinyl editions are already available through Chaos Records.
Ideally, this re-issue will have done nothing much to the original production, which while primitive, suited the music perfectly. Along with other innovative classics of the death metal movement the epic slab of creative greatness that is Gloomy Reflections of Our Hidden Sorrows should takes its place among others of its caliber.
Tags: cenotaph