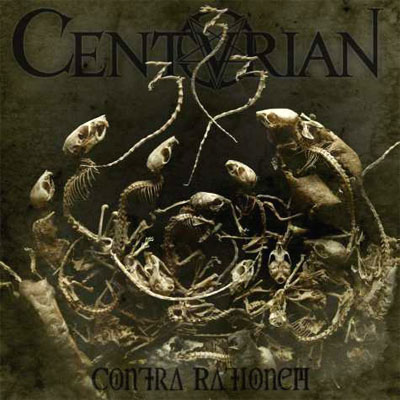 After some time absent from making music, Centurian returns with another album of ripping music made in the style of later Morbid Angel infused with the type of battering riffing that made Master's On the Seventh Day… such an underground favorite.
This is precise high energy playing in that rhythmic but phrase-based style innovated by Morbid Angel, Vader, Mortuary and Massacra. Its strength is its intensity, but its weakness has in the past been knowing when to tone it down for a bit of variation. On this album, the band use more variation and melody to break up the unrelenting intensity of this approach.
Contra Rationem develops through an inner conflict based on the collision of extremely violent riffs, and the doubts and ambiguities of this situation revealed by changes in the intensity. This saves it from being a blowhard full-ahead band in which turning everything up to "11" makes that the norm, and by so doing removes its power. Centurian break up their forward assault with guitar solos, use of melody, dirge riffs and most importantly, abrupt shifts in direction. The result is that these songs negotiate internally and develop, instead of being presented as a final state that must be pounded into your head.
The most obvious influence here is Morbid Angel, especially the post-Covenant era, but the chant-heavy choruses and ripping speed riffs in many ways recall the best days of Destruction. There are no broken beats or trudging progressions because this album prefers to stack riffs against one another and then reach a natural conclusion at which point a total break from the expected occurs. The result naturally merges the listenability of speed metal (Destruction) with the power of the unexpected in death metal (Morbid Angel).
Centurian's strength is their sheer momentum and pounding frenetic energy. Their weakness is the converse of this, which is that sometimes songs come across as hasty exercises in all-ahead-go, and as a result are less memorable than the finely-sculpted classics of death metal which removed extraneous complexity to create unbreakable moods. However, this is a small weakness, since this album shows great creativity in riffcraft which results in songs that shape themselves as distinct from one another.
For those who want a death metal album of the warlike style that made Morbid Angel and Vader such perennial favorites, Contra Rationem is a good place to begin the search. It avoids both the newer style of "carnival music" that has infested death metal and the faux retro style that insists on playing everything so fast the audience falls asleep, and uncovers in this band a more developed musicality and sense of mood.
Tags: centurian