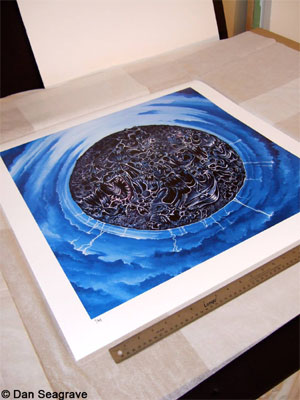 Artist Dan Seagrave, whose works adorned the cover of classic death metal bands like Morbid Angel, Suffocation, Entombed and Pestilence, sells prints of the art uses for these classic covers. This means the underlying image, without the logo and title.
Seagrave has begun offering the art from the Morbid Angel album Altars of Madness as a large format limited edition of 99 prints and ten artist proofs. Printed on Hahnemuhle Photo Rag Pearl, the prints measure 28 inches to a side and are specially made to order for $350 each plus shipping.
In addition, he's offering the art from the Suffocation album Effigy of the Forgotten in the same size for $270 each in an edition of 450 on Somerset Velvet matte stock paper. He cites the increased cost of printing on high-quality paper as the reason for the rise in price for this longstanding favorite.
For more information, you can seek out the Dan Seagrave art home page.
Tags: dan seagrave, metal art