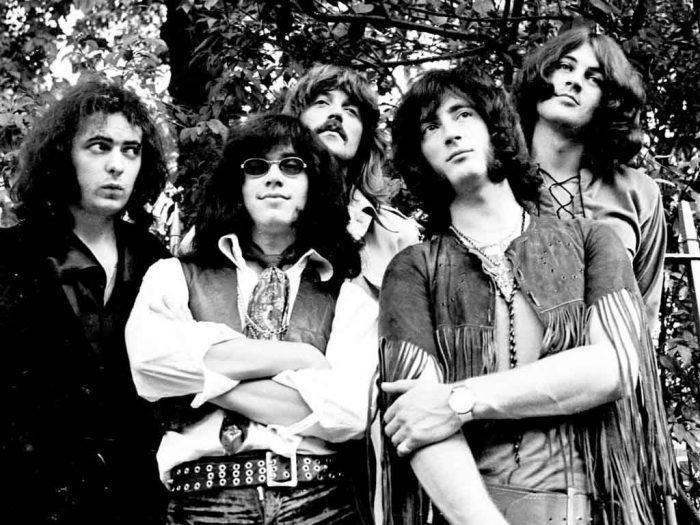 For those of us who have never been Deep Purple fans, the following analysis of their roots shows us the utility of classical music in making great heavy metal:
In his often dark, penetrating and sinister sound, (especially before forming the band Blackmore's Night with his wife Candice), one very often hears his guitar solos filled with Classical Baroque influence. In fact, his chromaticism and arpeggiated runs which go up and down the neck often reveal his interest in composers like Bach, Vivaldi, Mozart and Beethoven. His live performance contributions to Deep Purple's Concerto for Group and Orchestra (written by keyboardist Jon Lord, much of which had sounded like Sibelius) at the Royal Albert Hall in 1969, also shows this. Here, while he had sounded as if he had been doing his best to throw in as many rock riffs as he could, his affection and understanding of classical ideas in his playing could certainly be heard and at the concert he had performed with exemplary classical finesse.

In the following year, in an era in popular music of mostly rock, pop and psychedelic sounds, his classically influenced guitar solo on the song "Mandrake Root" from Shades of Deep Purple, as well as his chromaticism on "Hard Lovin Man" from Deep Purple's album Deep Purple In Rock (1970), had showcased how much he has always loved classical music. In fact, Ritchie's love of classical music again appeared on Deep Purple's Machine Head album in the following year and one can hear it on the guitar solo he had played on "Highway Star" on his Fender Stratocaster guitar. In this masterpiece of playing, after the keyboard solo, which was bursting with a classically influenced chromaticism, we hear Mozart-influenced arpeggios in Ritchie's sequence after the D minor pentatonic opening of his solo, which moves from D Minor, to G Minor and then to A Minor, which he then follows with a similar descending fiery chromaticism echoing Lord's earlier keyboard runs. Another example of this classical focus can be heard in his guitar solo in the Deep Purple song "Mistreated" from the album Burn where Ritchie's great feeling for the classical again also begins to creep in.

Increasingly, with Rainbow, his classical ideas and motifs would weave their way into especially his live performances with the band. In many ways, while his rock guitar playing sounded darker and darker and heavier, the increasing amount of his classical playing style, which could increasingly be heard at Rainbow's concerts, seemed to become more melodic and softer sounding and medieval and renaissance music could be heard in his playing. In addition to his instrumental soloing in the middle of Rainbow's concerts, always containing the influence of classical ideas, which had sounded even more this way, his playing pieces by Bach and Beethoven which he combined with renaissance pieces like his 16th century "Greensleeves" on stage into a single performance became more and more prominent. In fact, Ritchie had explained in an interview that his love of this style had begun as far back as 1972 when he had heard the David Munrow Early Music Consort playing music written for Henry VIII's wives.
Many of the metal greats found value in classical because it offered what they needed as a compositional tool, namely a way to structure small motifs into a coherent narrative over time so that it becomes "heavier" when it finally reaches a conclusion.
If not Deep Purple, maybe consider Bathory or Burzum, although it would be hard to get a definitive list of the heavy metal and death metal musicians influenced by listening to classical, even if they do not emulate it or otherwise use its motifs in their works.
Tags: Bathory, burzum, Classical, classical music, deep purple, Heavy Metal