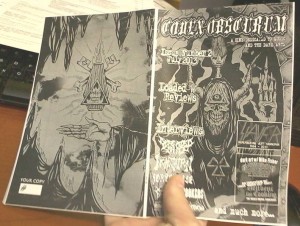 New England based old-school print zine Codex Obscurum has just announced that their second issue is available for order. For $2 (plus shipping) you can obtain a well-versed printed zine that encompasses many elements of Hessian culture.
Bands covered in issue #2 include Defeated Sanity, Incantation, Forteresse, Morpheus Descends, The Hookers, Ringworm, Goatcraft, October Tide, Morticia and a multitude of others.
Ordering information is located here.
Tags: codex obscurum