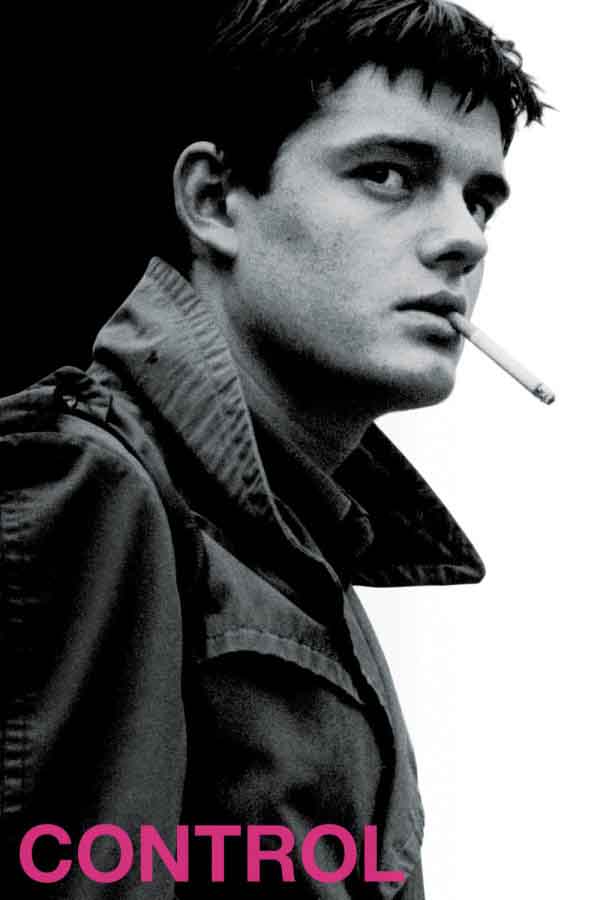 Control looks into the life of Joy Division's Ian Curtis, who committed suicide in 1980, through the eyes of his wife Deborah who wrote a book of her experience, Touching from a Distance: Ian Curtis and Joy Division upon which the movie is based.
Joy Division remain important for the world of music because most of 1980s indie aggregated Joy Division post-punk guitar technique into bouncy pop-punk and formed of it the post-rock which also influenced the chaotic post-hardcore that is the basis for metalcore and modern metal. Where the newer bands were totally circular, Joy Division created more of an unsettling atmosphere of unsystematic and dissymetric music.
The film pitches the idea that Curtis suicided because his diagnosis with epilepsy condemned him to the side-effects of the drugs he took for the condition, and the tendency of seizures to hit at moments of high emotion made him fear the things that ultimately fulfilled him, like band, family and friends. As a result he became increasingly isolated at the same time his symptoms increased, with the exception of his remora of a Euro-girlfriend, Annik Honore.
It's an interesting thesis, but suicides are too often blamed on medical conditions instead of an honest perception of the utter misery of life. Control shows us the more innocent and purposeful world in which Joy Division arose, the strong bond between the men in the band, and the left field attack of fame and seductive power. Without being a Joy Division historian, it is hard to say how accurate its perspective is, and it may be 100% true, but Deborah Curtis gets shown in a kind light. To its credit, the film does not extensively vilify others, except perhaps the extramarital affair (I'm told these are now called "side bitches") which is portrayed as parasitic in this and other sources.
What makes Control worth watching is that it portrays artistic force as the utterly incoherent thing that it is; musicians have no idea how to articulate what they are doing, and yet they do it and often incorporate a good deal of thinking into the end result despite being unable to explain it. If anything, the movie could have done with more band scenes — the actors practiced together and became a Joy Division cover band for the purpose of the movie, with actor Sam Riley's interpretation of the songs as a more Morrisonian Joy Division sometimes giving them new power — and less of the family drama behind it, but it is good to see that included, as it is to see the environment in which this band arose. Joy Division remains provocative and adored to this day, joining a long line of controversial rock vocalists who self-destructed upon seeing the ruin that is modernity. Perhaps this movie would have been stronger if it, like The Doors, incorporated more of that vision, but as it is it makes for an interesting introduction to Joy Division and post-punk.
Tags: deathcore, joy division, metalcore, modern metal, new order, Post-Punk, sam riley