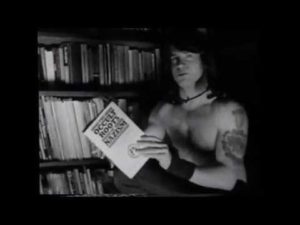 A growing trend among some metal and rock bands is the aggressively enforced ban of cell phones during live performances.  While their motivations are not unlike those of Metallica at the height of the Napster controversy (as these bands want their only live footage to be sold at dying retail stores in the form of $40 DVDs) they are actually doing their fans a great service by mitigating the amount of millennial vanity happening in the live concert environment.  Nobody likes the hipster douchebag belligerently sticking a phone in front everyone's view to pad his YouTube stats, and young people are better off liberated from the soul consuming cell phone screen for awhile.
But of all of the bands attempting to police the visual pirating of their performances, Danzig and his reunited Misfits have taken the most militant enforcement of totalitarian rule of the concert environment.  Per Blabbermouth
"When you enter the space you show your ticket, your phone is placed in a Yondr case, the case locks, and once your phone is in there, it's handed right back to you, [so] you never lose possession," Graham Dugoni, who founded Yondr, told KXTV-TV.

"If you're waiting for a call, that's no problem; you can keep your phone on vibrate so you'll feel it in your pocket or in your purse," he added. "You can step outside to the lobby and they'll unlock your phone there."
As obsessive cellphone use decimates the minds and social skills of younger generations, these anti-phone spaces will expansively enhance the consciousness the environment.  This forces the concertgoer into actually experiencing reality along with the actual purpose of live performances.  Interestingly, there may actually be a sliver of hope for a western civilization in the hands of these young generations should these ridiculous cell phone locks and vehemently policed anti-cell phone policies expand to society outside of the concert space.
Tags: 2017, cell phone, concernt policy, control, danzig, misfits, Nazism, news, order, totalitarian