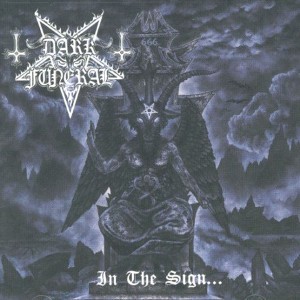 Dark Funeral, the Swedish black metal band started by Necrophobic guitarist David Parland (whose untimely demise this year shocked the metal world), has a long and storied career. The band is now re-releasing its earlier works with the usual remaster and rare tracks treatment.
The important album to look forward, however, is In the Sign…. This one, which features the guitar work and composition of Parland, shows melodic Swedish black metal at its raging best. With the energy of Belial, and the general aesthetic of a simplified Dissection, early Dark Funeral is a more heavy metal take on black metal that often resembles tremolo-picked version of Ride the Lightning.
In the Sign… as re-issued will be almost twice as long, with the original self-titled MCD/EP combined with four Bathory covers to produce an approximation of an eight-song album. These titles will be released in Europe on September 9 and in North America on November 12 via Century Media Records.
In The Sign… (re-issue+bonus) track-listing **available as CD, LP (plus poster), digital download**
1. Open The Gates (4:36)
2. Shadows Over Transylvania (4:22)
3. My Dark Desires (3:52)
4. In The Sign Of The Horns (3:43)
5. Equimanthorn (BATHORY cover) (3:21)
6. Call From The Grave (BATHORY cover) (4:34)
7. Open The Gates (live 2003) (3:54)
8. Shadows Over Transylvania (live 2003) (3:16)
9. My Dark Desires (live 2003) (3:48)
NOTE: tracks 1-4 are taken from the self-titled MCD (1994), tracks 6-7 are taken from 'In Conspiracy With Satan' BATHORY-tribute sampler
The Secrets Of The Black Arts (re-issue+bonus) track-listing **available as 2CD, Gatefold 2LP (plus poster), digital download**
CD1:
1. The Dark Age Has Arrived (00:18)
2. The Secrets Of The Black Arts (03:40)
3. My Dark Desires (03:46)
4. The Dawn No More Rises (03:58)
5. When Angels Forever Die (04:06)
6. The Fire Eternal (03:54)
7. Satan's Mayhem (04:52)
8. Shadows Over Transylvania (03:41)
9. Bloodfrozen (04:20)
10. Satanic Blood (VON cover) (02:12)
11. Dark Are The Paths To Eternity (A Summoning Nocturnal) (05:56)
CD2:
1. Shadows Over Transylvania (Unisound version (03:39)
2. The Dawn No More Rises (Unisound version) (03:40)
3. The Secrets Of The Black Arts (Unisound version) (03:26)
4. Satan's Mayhem (Unisound Version) (04:48)
5. Bloodfrozen (Unisound Version) (03:36)
6. My Dark Desires (Unisound Version) (03:21)
7. Dark Are The Paths To Eternity (A Summoning Nocturnal) (Unisound Version) (05:39)
8. The Fire Eternal (Unisound Version) (03:38)
Vobiscum Satanas (re-issue+bonus) track-listing **available as CD, LP, digital download**
1. Ravenna Strigoi Mortii (04:26)
2. Enriched By Evil (04:40)
3. Thy Legions Come (04:11)
4. Evil Prevail (04:28)
5. Slava Satan (03:56)
6. The Black Winged Horde (04:37)
7. Vobiscum Satanas (05:00)
8. Ineffable King Of Darkness (03:38)
9. Enriched By Evil (live 1998) (04:43)
10. Thy Legions Come (live 1998) (04:14)
11. Vobiscum Satanas (live 1998) (05:00)
12. Ineffable King Of Darkness (live 1998) (03:28)
Tags: Black Metal, dark funeral, Heavy Metal