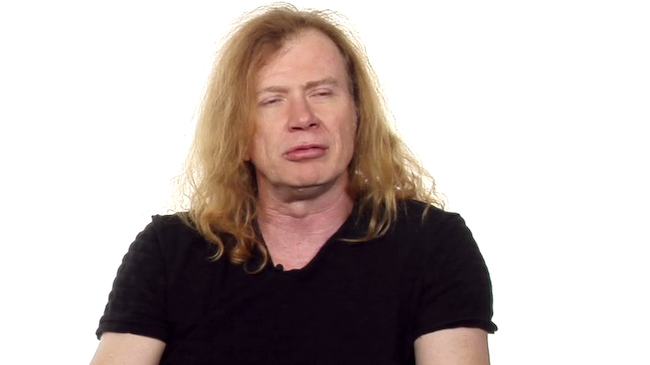 Dave Mustaine revealed in a recent interview with Hong Kong newspaper the South China Morning Post about Megadeth's first Hong Kong show that he doesn't headbang or practice guitar anymore due to prior injuries:
The hardest thing was not headbanging – I just do it without thinking. You don't know what it's like to be in my body. There are some days when my left hand can't even play. I don't practise – I save it all for the tour.
Mustaine famously gave himself radial neuropathy by falling asleep with his arm over the back of a chair back  in 2002. Megadeth went on an eighteen month hiatus while Mustaine went through physical therapy to defy doctors' expectations and play guitar again. Megadeth was then reformed in 2004 and the band has released mostly forgettable output since.
Every major speed metal band should have stayed broken up long ago to keep fan's memories positive. Selling out to play radio rock and release everflowing streams of forgettable, awful releases has diluted the fond memories fans cherish of the bands' older material. Metallica, Sodom, Kreator, Slayer, and Megadeth all should have called it quits over a quarter century ago if they cared about preserving any semblance of metallic credibility. Every single band proved in the 90s that they did not want to play metal music, they wanted to be rock stars and the Americans and Sodom sort of succeeded. Most of the bigger underground metal bands attempted to do the same with death/black 'n' roll albums whether they admit them as such or not and even fewer achieved any sort of mainstream popularity.
Since Megadeth aren't even trying to prepare to put on the best possible show for their fans, why should anyone see them? Their older 1980s speed metal material from their heyday is often heavily simplified live with reduced amount of riff variations and melodic fills. Mustaine's voice is more awful than ever and always turned down in the mix. The newer albums are heavily budget riffed with minimal amount of artistic effort spent per composition to even write them. That is when Megadeth even feels like playing speed metal and not pandering to all the thirty somethings who ate up "Symphony of Destruction" on MTV in the mid 90s. Why doesn't Mustaine just release a fraction of the amount of albums he has released this millennium, consolidate his better material, and make something that his fans will not forget about in a month or two? For the same reason that Iron Maiden, Judas Priest, and Metallica do not edit themselves at all anymore: rock star egoism.
Tags: Dave Mustaine, mainstream metal, megadeth, Speed Metal