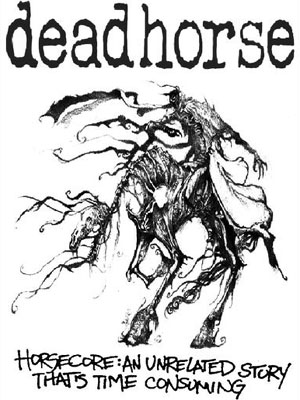 Success in life often comes down to timing. Some of metal's best bands, by virtue of being ahead of the curve, simply get there too fast and go too far to be as noticed as the others who plod along and thus are right about where their audience expects them to be, thus understands them and thus can appreciate them.
It reminds me of the friend of mine who wrote an English paper in high school that the teacher dismissed as nonsense; when he handed it in at college, he got an A. He was just too far out ahead of the curve. In the same way, Houston's Dead Horse were just too ahead in too many ways at once for most people to grasp. Thrash is a hybrid between punk songs and metal riffs, so named because of its popularity with thrashers or skaters. Thrash bands like DRI (also from Houston), COC, Cryptic Slaughter, MDC and Fearless Iranians From Hell (from San Antonio) were famous for short intense songs of social commentary that was more existential and practical than political. Dead Horse took it even further to a nearly literary level.
After producing a series of demos that were well-received in the underground and even among "normals," Dead Horse recorded and self-released their first album, Horsecore: An Unrelated Story That's Time Consuming. After that, they gigged like maniacs and finally got on a larger label to release their second album, Peaceful Death and Pretty Flowers, at which time a death metal and progressive metal influence was flowering in their music. But after that, they never really got a handle on things again, despite releasing a pair of well-received EPs. As often happens in Texas, the local scene swallowed them, in equal parts of taking them for granted and resenting them for rising so far so fast.
Fast-forward to last year. Most of Dead Horse is now gallivanting around in Pasadena Napalm Division, while original frontman Mike Haaga makes his living making oddball soundtracks and performing live. Like many talented people in metal, he left it behind, probably outraged at the simple inability of metalheads to unite to do anything, a self-defeating practice that delights their detractors (what's better than an opponent who commits suicide?). But the other band members have continued on and played a show in Houston which was memorialized in their Making a Dead Horse Live DVD.
According to most recent reports, the band is returning for a live performance at Fitzgerald's this Saturday, possibly with Kurt Brecht of DRI making an appearance. It's good to see this legend rise again, and this time, perhaps stay in flight.
Tags: dead horse, dirty rotten imbeciles, pasadena napalm division, Thrash