The Death Melodies Series (DMS) continues with pioneering Romanticist composer Ludwig van Beethoven.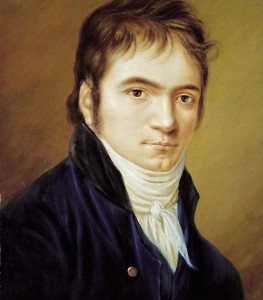 Quite possibly the most well known composer to ever walk this planet, Ludwig van Beethoven's music has inspired the world for two centuries. Beethoven ushered in the Romanticist Period after he was under the guidance of Joseph Haydn in which he studied and performed works by Wolfgang Amadeus Mozart. His Mozartean mastery furthered his reputation as a performer and when Beethoven sought to compose, he started out with heavy influences from his Classical Period contemporaries.
Romanticism: Some time around 1804, Beethoven grew weary of the state of music and decided that he was going to pave a new way. Inspired somewhat by the glimpses of Romanticism that Mozart hinted at during his later years, Beethoven presented a fully formed Romanticist style that would be extended throughout the 19th century in Classical Music. This period of Beethoven's career is known as the 'Heroic Period'. The most notable musical work from this time is his Third Symphony in which the second movement is a Funeral March for the then-still-alive Napoleon Bonaparte. Beethoven was originally going to make the symphony a tribute to Napoleon's role in the French Revolution, but he was rather disgusted by Napoleon proclaiming himself the Emperor of France, so Beethoven instead insulted Napoleon with a Funeral March.
Beethoven's hearing started to deteriorate around the age of 26. As his condition worsened he isolated himself and had thoughts of suicide. His art overrode his depression and he was striven to live his life through his works. He kept hammering out innovative and groundbreaking compositions of epic portions that would forever change the course of Classical Music. Ludwig van Beethoven immortalized himself through his art.
https://www.youtube.com/watch?v=nmfLIerVubk
Tags: Beethoven, death melodies series