The Death Melodies Series (DMS) continues with composer Gustav Mahler.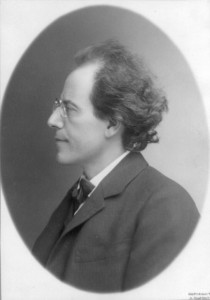 I was recently invited to my local symphony to see Mahler's third symphony. The first movement crept dismally slow; almost like a worm being poked with a stick and curling in its own demise. It was the best movement of the entire symphony and it brought a sense of dread that wasn't extended upon in the later movements. The whole show was about eighty minutes and it was literally all over the place. There was a children's choir in it which made the masculine first movement rather irrelevant. With no intermission for me to gather my thoughts or drain my bladder, I sat in my seat and experienced the entire symphony without interference.
Mahler was a late Romantic composer, but some would consider him as a Modernist. I believe that he's in league with Liszt in the sense that he branches both in the Romantic and Modernist periods (Liszt's Totentanz is a good example of both Romanticist and Modernist). Being that Mahler was inspired by Richard Wagner, it gets a bit muddy classifying him as a Romantic composer.
Much of Mahler's life was spent conducting, so he wasn't as prolific as Beethoven or other composers were, though he spent many summers composing. Tragedy wasn't far from Mahler's life. One of his two daughters died while she was still young and he himself had a defective heart. Mahler also faced prejudice for being an Austrian Jew, but it didn't hinder his successes.
I picked these two pieces to coincide with the Death Melodies Series' goal of sharing classical music that metalheads might enjoy.
Tags: death melodies series, mahler