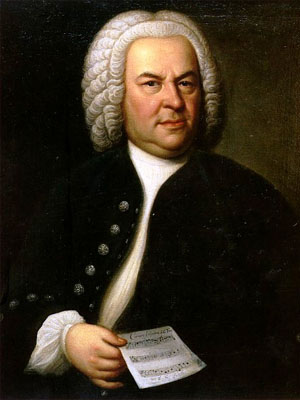 The Death Metal Underground (DMU) is proud to present the Death Melodies Series (DMS).
The primary function of the DMS is to expose metalheads to Classical Music that they might enjoy.
If it's Baroque, don't fix it.
Our first in the Death Melodies Series will feature some Baroque pieces. The Baroque Period followed after the Renaissance Period and was roughly from the beginning of the 1600's to mid 1700's. The emphasis on tonal harmony was established during this time. Opera was also introduced amid the Baroque term.
This article will focus on Bach, which is one of the most prolific Classical composers that ever lived. Bach gradually became blind as he aged, however his disability didn't stop him from composing. Other noteworthy composers of this era were Handel, Scarlatti (x2), and Vivaldi. Nevertheless, the DMS will be showcasing more of the dark, ominous, and powerful pieces.
Bach's most assaulting weapon was the organ, though he also played and wrote pieces for violin, viola, and harpsichord.
http://www.youtube.com/watch?v=fFtOgB_oFAw
There is debate about transcriptions for Bach's organ work for other instruments. Hipsters like Glenn Gould would claim that they do justice transcribing it to piano, though piano was invented during Bach's life and he didn't compose any melodies for it because he found it somewhat lacking. Glenn Gould just wanted to be hip, different, and make money doing it. Orchestrated versions of Bach's work tend to add more parallels, which Stokowski portrayed:
Here is another example of an orchestrated rendition:
Tags: bach, death melodies series