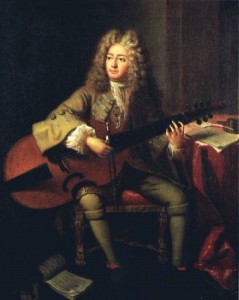 The Death Melodies Series (DMS) continues with more Baroque.
Frenchman and basse de viol master Marin Marais lived from 1656 to 1728. He was hired as a court musician for the royal court of Versailles in France. During and after his stint appeasing the wigs upstairs, he wrote numerous books for his instrument.
Not much is known of this composer's personal life after he reached adulthood.
Ironically, former Morbid Angel and Nocturnus drummer/vocalist Mike Browning was recently hospitalized for having enormous kidney stones. His surgery to remove them was successful. Marin Marais' morbid work 'The Bladder Stone Operation' for viol and harpsichord would have been a suiting victory soundtrack.
Q&A with Mike Browning regarding his surgery:
When did you realize something was odd in your body?
About 3 weeks ago I started getting a very bad pain on my left side, right in the area above were your leg and body meet. This is the 3rd time I have had kidney stones, so instantly I knew what it was. The pain got so bad though that I had to go to the emergency room!
How long did the procedure last?
They used a laser on me to crush up one large and several small stones in my left kidney, the whole procedure lasted almost 3 hours, luckily I was under anesthesia!
What type of medication did the doctors give you after the surgery?
They only gave me a bottle of hydrocodone 5 mg, which is not much more than taking a couple aspirins!
Did you at any point think about Marin Marais while you were hospitalized?
No, until now I have never heard of Marin Marais! The only thing I thought about was pain and when it would all be over!!!
Mike Browning prepping for surgery.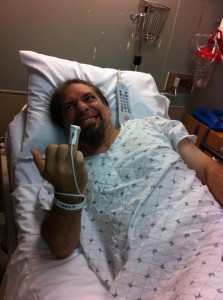 Le Tableau De L'Operation De La Taille (in 17th Century French)
L'aspect de l'apareil – Fremißement en le voyant – Resolution pour y monter – Parvenu jusqu'au hault – descente dudit apareil – Reflexions serieuses – Entrelaßement des soyes – entre les bras et les jambes – Icy se fait l'incision – Introduction de la tenette – Icy lon tire la piere – Icy lon perd quasi la voyes – Ecoulement du sang – Icy lon osteles soyes – Icy lon vous transporte dans le lit.
English Translation:
The depiction of a waist surgery – The appearance of the operating table – A shudder on seeing it – Determination when mounting it – Climbing in – Climbing out and dismounting – Grave thoughts – Knotting the silk restrains for arms and legs – Then the incision is made – Introduction of the forceps – Then the stone is drawn – Then you nearly lose your voice – Blood flows – Then the silks are unknotted – Then you are taken to bed.
Here we have a viola da gamba and harpsichord performing Marin Marais' bladder stone song.
Aside from composing about his own surgical encounters, Marin Marais was also very proficient at creating a simple motif and building complex structures upon it.
http://www.youtube.com/watch?v=qSRuwF2rNts