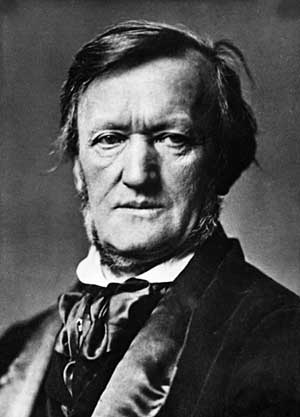 The Death Melodies Series (DMS) continues with modernist Richard Wagner.
Born in Germany during 1813, Wagner composed his first opera The Fairies when he was 20. He wrote many operas and had successes as a composer and conductor. However, political controversy hindered many aspects of his life.
Wagner was discontent during the industrialization of Europe. Mankind's lust for advancing technology left many areas poverty-stricken. He became a Socialist in hopes that a revolution would rectify the issues in Germany. Wagner had a small role in the May Uprising in Dresden which proved unsuccessful. He fled to Paris, then relocated to Switzerland for eleven years.
While in political exile, Wagner desired to resurrect the Norse spirit of ancient Europe. He's best known for the monumental work Der Ring des Nibelungen, which is the most ambitious undertaking by any one person in European music. The Ring Cycle took Wagner over 25 years to accomplish, as well as having a playing time of 15 hours.
Wagner delved into many different Scandinavian sources and fashioned a grandiose medieval drama. Dwarves, Valkyries, heroes and monsters all had roles in the operas. He wanted his work to help strengthen political principles, but he also managed to craft some of the most stunning works in classical music.
In 1840, Wagner started composing his Faust symphony which was inspired by Johann Wolfgang von Goethe's play Faust. The symphony was never completed and it was instead turned into a single-movement concert overture.
http://www.youtube.com/watch?v=fuKDMRhHFKQ
Tags: death melodies series, wagner